Shaheed Bhagat Singh, Sardar Bhagat Singh
Abha, 10+2 (Med), Wisdom World School, Kurukshetra, Haryana, India - 136118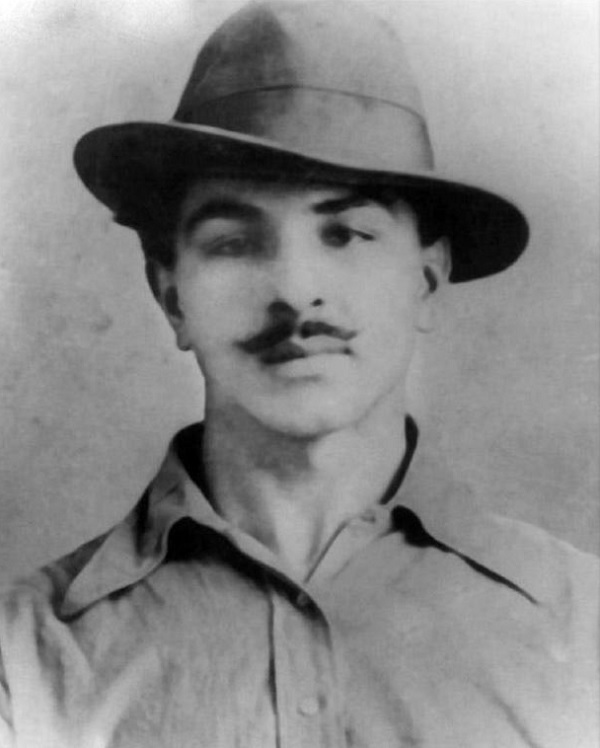 Nationality: British Indian
Known to be: Freedom fighter
Born: September 27, 1097, Banga village in Lyallpur district of Punjab (now in Pakistan)
Died: March 23, 1931, Lahore Jail
Sardar Bhagat Singh is one of the greatest and most inspiring figures of Indian nationalism and struggle for independence. His youthful martyrdom charged Indian youth with the spirit of nationalism and patriotism.
Sardar Bhagat Singh was born on September 27, 1097 in a Sikh family at Banga village in Lyallpur district of Punjab (now in Pakistan). He was the third son of Sardar Kishan Singh and Vidyavati. Bhagat Singh inherited the spirit and environment of nationalism from his father as he was also a member of the Ghadar Party. His uncle Sardar Ajit Singh was also active in anti-colonial rule activities. He got his education at the Dayanand Anglo Vedic High School and later at the National College in Lahore. At a very young age he actively took part in the Non-cooperation Movement led by Mahatma Gandhi. But the tragedy of the Jallianwala Bagh massacre showed him the cruel and horrible face of the British rule and he firmly decided to uproot this devilish rule by any means. Bhagat Singh formed the Naujawan Bharat Sabha in 1925 on the lines of the European nationalist and revolutionary movements and became its secretary. He became an active member of the Hindustan Republican Association (HRA), a radical and revolutionary group which he later re-cherished as the Hindustan Socialist Republican Association (HSRA) along with fellow revolutionaries Chandrashekhar Azad and Sukhdev.
Bhagat Singh vehementaly opposed the Simon Commission's visit to Lahore. In one such protests, Punjab Kesari Lala Lajpat Rai died due to brutal police lathi charge.
To avenge Lalaji's death, Bhagat Singh and other revolutionaries decided to kill British police officer James A. Scott who was believed to be responsible for the lathi charge. But the group of revolutionaries led by Bhagat Singh killed Assistant Superintendent Saunders as a case of mistaken identity. He along with his associates left Lahore soon after the killing of Saunders to escape arrest.
Bhagat Singh wanted to spread awareness among Indians about the curse of the British rule over India. He wrote many articles for this purpose. Bhagat Singh and Batukeshwar Dutt threw bombs onto the Central Legislative Assembly, Lahore on April 8, 1929 to make the sensless British government aware of the problems and plights of Indians. They did not want to harm anyone and bomb was thrown away from the crowd. Both the revolutionaries shouted slogans against British rule threw pamphlets about their policies and views and peacefully courted arrest.
Bhagat Singh was sentenced to a life term for violent and unlawful activities against the government. But soon after it, he was caught in the murder of Saunders case. Even in jail he along with fellow revolutionaries launched an indefinite hunger strike in protest of the discrimination against the native prisoners. Jatindra Nath Das died after 63 days long hunger strike. Bhagat Singh won a pan-India level popularity and became an icon of Indian youth. After a trial in case of the Saunders murder, also known as Lahore Conspiracy Case, Bhagat Singh along with his fellow comrades Rajguru and Sukhdev was hanged in Lahore Jail on March 23, 1931.
Bhagat Singh wrote a book named 'Why I am an Atheist'. In this book he described his views favouring socialism. He gave the slogan of 'Inquilab Zindabad'.
References
Bilal D., 2017, "PROMINENT HISTORICAL PERSONALITIES OF INDIA," Pratiyogita Darpan English; August 2017: 119.
Kalpana Rajaram, 2015, "Personalities Associated with the National Movement," Spectrum's Handbook for General Studies Paper – I; Spectrum Books (P) Ltd., New Delhi; p. 36-40.