Bipin Chandra Pal
Abha, 10+2 (Med), Wisdom World School, Kurukshetra, Haryana, India - 136118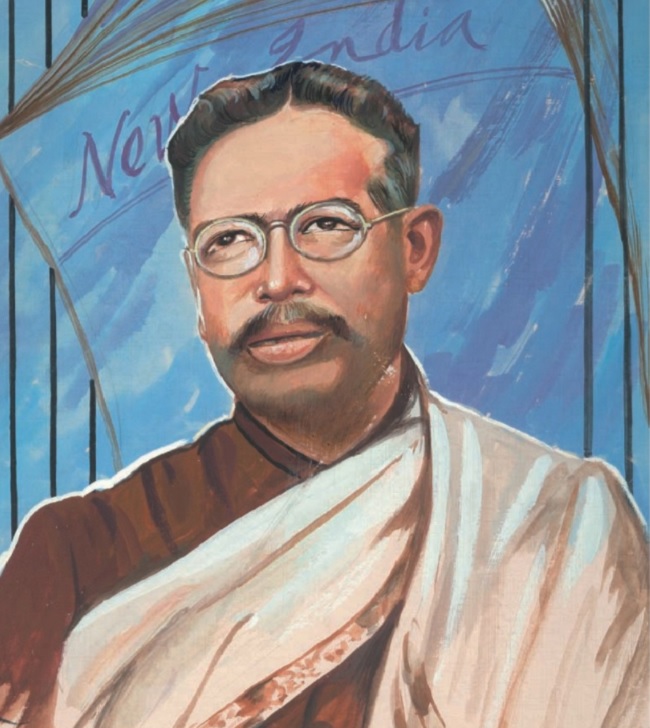 Nationality: British Indian
Known to be: Freedom fighter
Born: November 7, 1858, Sylhet district of Bengal
Died: May 20, 1932
Bipin Chandra Pal, the first person to strongly articulate India's commitment to the freedom struggle, toured England and America as a Brahmo Samajist in 1898-1900 to further the cause of social reform in India.
Bipin Chandra Pal was born in 1858, November 7 at Sylhet district of British Bengal. His father Babu Ramachandra Pal was a lawyer and by dint of his abilities, soon rose to eminence in the profession, becoming the leader of the local bar. Bipin Chandra Pal was only son of Babu Ramachandra. He passed his matriculation while he was yet young. His father took him to Calcutta to have him educated there, he was inspired by the thrilling lectures of Keshava Chandra Sen on Bramhoism and a consequence embraced that religion and other relatives and friends interested in him left no stone unturned to dissuade him from joining the new religion, but in vain. He left his home and returned after 10 years. This domestic incidence which put him to no small pecuniary difficulty, stood in the way of his further prosecuting higher studies.
After completing his studies, he was first employed as the Head Master of a High School in Cuttack in Orissa, at the age of just 21 years. After three years, he went to his native place Sylhet and established a High School. But after 5-6 years due to insuffient funds he gives up his undertaking. He then served as a Headmaster of the High School in Bangalore for a period of two years and here, he got married. And returned to Calcutta where he was appointed as Liberarian to the City Liberary. It was here that he studied and became well versed in the literature of West imbinding its noblest ideas. Here, after the death of his noble wife, he renounced the world, acquired the company of Sadhus and got knowledge of Sanskrit and ancient India.
He adopted Surendranath Banerjee as his radicalism in politics. In 1906, he began the 'Vande Mataram'. He suffered imprisonment in 1907.
In 1886, he joined the Indian National Congress. At the Madras session of congress held in 1887, Bipin Chandra Pal made a strong plea for repeal of the Arms Act which was discriminatory in nature. Along with Lala Lajpat Rai and Bal Gangadhar Tilak he belonged to the Lal, Bal and Pal trio that was associated with revolutionary activity. In fact Aurobindo Ghosh and Pal were recognized as the chief exponents of a new national movement revolving around the ideals of Purna Swaraj, Swadeshi, boycott and national education.
His programme consisted of Swadeshi, Boycott and national education. He preached and encouraged the use of Swadeshi and the Boycott of foreign goods to eradicate poverty and unemployment. He wanted to remove social evils from the form and arouse the feelings of nationalism through national criticism.
He had no faith in mild protests in the form of Non-Cooperation with the government. On that one issue, the Assertive nationalist leader had nothing common with Mahatma Gandhi. During last six years of his life he parted company with the Congress and led a secluded life. Sri Aurobindo referred to him as one of mightiest prophets of Nationalism.
He has made a profound impression on the rising generation of Indians. Agreement with his conclusions is no component of admiration for his thinking. He has made young India think furiously on nationality, self-determination and self-help. Not that he has organised a movement through which his ideas may materialize in action. Nor are the ideals that he upholds realizable except through some sweeping and dramatic changes in social conditions and political organization among the people.
References
Kalpana Rajaram, 2015, "Personalities Associated with the National Movement," Spectrum's Handbook for General Studies Paper – I; Spectrum Books (P) Ltd., New Delhi; p. 36-40.
"The Indian Nation Builders," Ganesh & Publishers; p. 210-221.[Web Reference]