Raidas, Ravidas, Saint Raidas, Saint Ravidas
Abha*
* Kurukshetra, Haryana, India – 136118
------------------------------------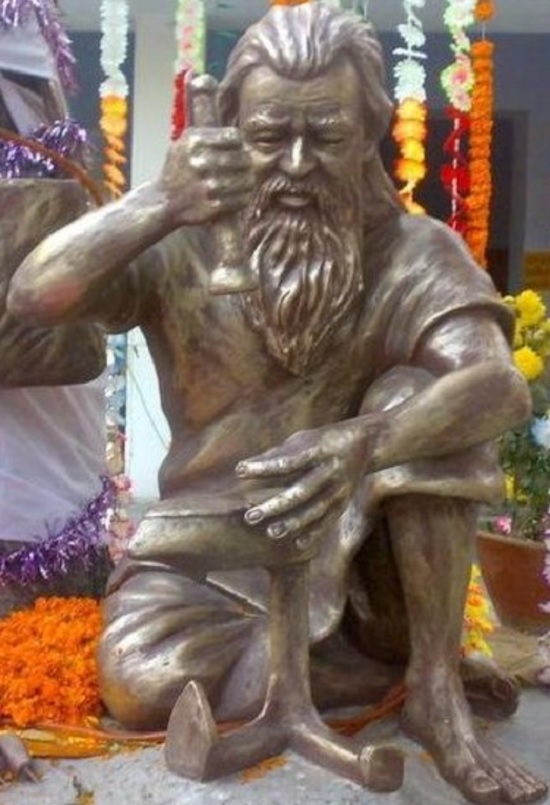 Nationality: Ancient Indian
Known to be: Social reformer, Poet, Saint
Born: 1433 A.D. at Seer Govardhanpur at Kashi (Varanasi, Uttar Pradesh)
Died: Lived for about 151 years but 1540 A.D. also mentioned.
"There is no difference between you (God) and me a there is no difference between gold and its ornaments, between water and its waves."
Guru Ravidas was born on 15th of Magh Saudi, full-moon day of 1433, but most scholars believe he was born about 1450 CE (Sharma 2003), however, 1440 A.D. is considered authentic at it is mentioned in a manuscript found at his birthplace, at Seer Govardhanpur at Kashi (Varanasi, Uttar Pradesh). His father's name was Santokh Das and mother's Kalsa Devi. Guru Ravidas married to Mata Loona, a very humble woman who supported him throughout his life.
Saint Raidas was one the most leading spiritual figures of the Bhakti movement in North India. He was the most prominent disciple of Saint Ramanand after Kabir. He lived at Banaras and earned his livelihood by mending shoes. On the one hand he tried hard to eradicate many social and religious evils by preaching people in simple language. On other hand he lived a normal, simple worldly life counting his profession of mending shoes to emphasize the value of labour and hard work.
Like Kabir, Ravidas emphasized the worship of and total devotion to a formless God. He denounced the evil of caste system and advocated the unity of Hinduism and Islam. He also rejected the theory of reincarnation. He infused a spirit of true religion among people through his simple and devotional songs. He never backed hollow rituals and artificiality in the religion. He said that anyone can achieve salvation through total devotion to God with a pure heart and simple life. In brief, Ravidas was a great saint of the Bhakti movement. Despite himself being uneducated he enlightened the society with his sublime thoughts and preachings.
Guru Ravidas lived for about 151 years (Singh 2005) but other says that he died in Varanasi in 1540 A.D. (Bains 1996).
It is widely believed that Mirabai, a famous poetess and spiritual figure, accepted Raidas as her 'spiritual guru' (mentor). Raidas founded 'Raidas sect'. Raidas cardinal doctrine was, "Hari is in all and all is in Hari."
References
Bains P.S., 1996, "Guru Ravidas Ki Jeevani (Biography of Guru Ravidas) (1414-1540 A.D.)," Aankan, Kavanpur, Dehradun.
Bilal D., 2017, "PROMINENT HISTORICAL PERSONALITIES OF INDIA," Pratiyogita Darpan English; October 2017: 109-110.
Kalpana Rajaram, 2015, "Personalities Associated with the National Movement," Spectrum's Handbook for General Studies Paper – I; Spectrum Books (P) Ltd., New Delhi; p. 36-40.
Sharma A., 2003, "The Study of Hinduism," The University of South Carolina Press, ISBN 978-1570034497, p. 229.
सतनाम सिंह (Singh 2005), 2005, "गुरू रविदास की हत्या के प्रमाणिक दस्तावेज," सम्यक प्रकाशन, नई दिल्ली।