Sir Chhotu Ram
Abha* & Avdisha*
* Students, Wisdom World School, Kurukshetra, Haryana, India – 136118
-------------------------------------------------------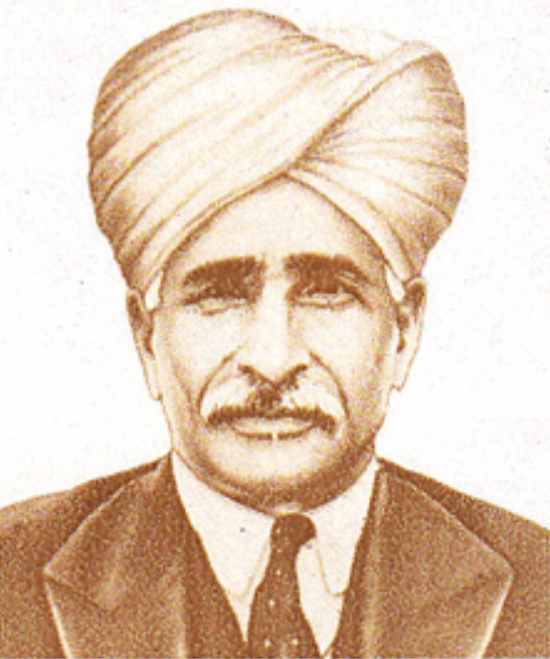 "I was born and brought up in rural surroundings which gave me a close and deep in site into the handicaps, difficulties, trials and turbulations, of the rural population. This insight could not have failed to influence the whole course of my psychological and moral growth... Side by side with the imperceptible and constant working of this factor, a deep and passionate love for the Jat tribe in which I was born warmed my heart from early life." – Sir Chhotu Ram, 1942
Nationality: British Indian
Known to be: Social reformer, Politician, Freedom fighter
Born: November 24, 1881 in Ghari Sampla in Rohtak (Haryana, then in Punjab), but he desired to celebrate his birthday on the festival of Basant-Panchmi
Died: January 9, 1945 (age 63) Lahore, Punjab, British India
Sir Chhotu Ram(1881-1945) was one of the most prominent pre-partition politicians in Punjab. He was born on 24 November 1881 in Ghari Sampla in Rohtak district in Punjab (Now in Haryana). But due to his love's depth for farmers, he declared his desire to celebrate his birthday on the festival of Basant Panchmi which indicates his fathomless attachment towards farmers.
He got his primary education in middle school Jhajjar. He also joined the Christian Mission School Delhi. Though it was not easy to raise the funds for his education so his father and brother approached to Sampla Mandi for a loan but they were insulted by the financer. This and other humiliating incidents, later recalled by Sir Chhotu Ram himself, left an indelible mark on his personally and world view. His stay at the Christian Mission School was eventful. He organized a strike against the in-charge of the boarding house for which he was given the nick name 'General Roberts'. Thereafter, he enrolled in Saint Stephens College from where he graduated in 1905. It was his stay at this college that he was drawn to the Arya Samaj, though he had already identified himself as adherent of Vedic Dharma in the admission form of the intermediate examination.
In 1905, Sir Chhotu Ram served as the co-private secretary of King Rampal Singh of Kalaakankar, and this was done by educating the English newspaper of India till 1907. He became the Superintendent of the Jat Hostel of Agra in 1911. In 1911, he received a degree in law. By staying here, Chhotu Ram studied the social condition of Meerut and Agra divisions. In the business of advocacy, he added new historical dimensions. They do not take false cases, stay away from deception, giving free legal advice to the poor, doing good with the boys, making ideal for their lifetime life.
In 1912, you started advocating with Chaudhary Lal Chand and in the same year Jat Sabha was formed. In the time of World War I, Chaudhary Chhoturamji recruited 22144 Jats from Rohtak, which was half of all other soldiers. Now then Chhoturam had made his place as a great revolutionary social reformer. He established many educational institutions in which Jat Arya-Vaidik Sanskrit High School Rohtak is the head. On January 1, 1913, Jat Arya-Samaj organized a massive gathering in Rohtak, which passed the proposal to set up Jat School, which resulted in the establishment of Jat School on September 7, 1913.
Sir Chhotu Ram participated in the nation's independence struggle. For the first time in 1916, Congress Committee was formed in Rohtak and he became the first chief of Rohtak Congress Committee. Sir Chhotu Ram's call to all the districts was shivering to the British rule. The writings and work of Choudhary Saheb has been described by the British as "very terrible". Consequently, the deputy commissioner of Rohtak recommended the removal of Chaudhary Chhotu Ram from the then English government. The Punjab government told the British people that Chaudhary Chhotu Ram himself is a revolution, his country will give up his pride, rivers of blood will flow out. Every child of the farmers will be Chaudhary Chhotu Ram. The British got shocked and the commissioner's recommendation was canceled.
In August 1920, Chhotu Ram left Congress because he did not agree with Gandhi ji's non-cooperation movement. He thought that this movement will not benefit the farmers. He was of the view that freedom fight should be fought in a constitutional way. Despite ideological differences on some points, he was a fan of Mahatma Gandhi's greatness and called the Congress a good community. Sir Chhotu Ram expanded his work area to Uttar Pradesh, Rajasthan and Punjab and formed a strong organization of Jats. To bring Arya Samaj and Jats on a platform, he contacted Swami Shraddhanand and Bhatinda Gurukul's manager Chaudhary Piramam and became his legal adviser.
Among major contributions are Sahukar Registration Act - 1938, Free Return of Mortgage Land Act - 1938, Agricultural Products Board Act - 1938, Business Workers Act - 1940, Debt Waiver Act - 1934. All these acts were in the interests of farmers and labourers.
Sir Chhoto Ram proposed the Bhakra Dam. The right to water the river Sutlej was of the king of Bilaspur. The great sage of Jhajjar signed an agreement with the king of Bilaspur. A substantial portion of his salary as Minister, was set aside as scholarships to bright poor students. Sir Chhotu Ram collected a large amount of funds for the victims of Bihar earthquake of 1934.
Till the end of his life Sir Chhotu Ram was the prominent figure in British India. He became the part of heaven on January 9, 1945.