Subhash Chandra Bose
Abha* & Avdisha*
* Student, Wisdom World School, Kurukshetra, Haryana, India – 136118
---------------------------------------------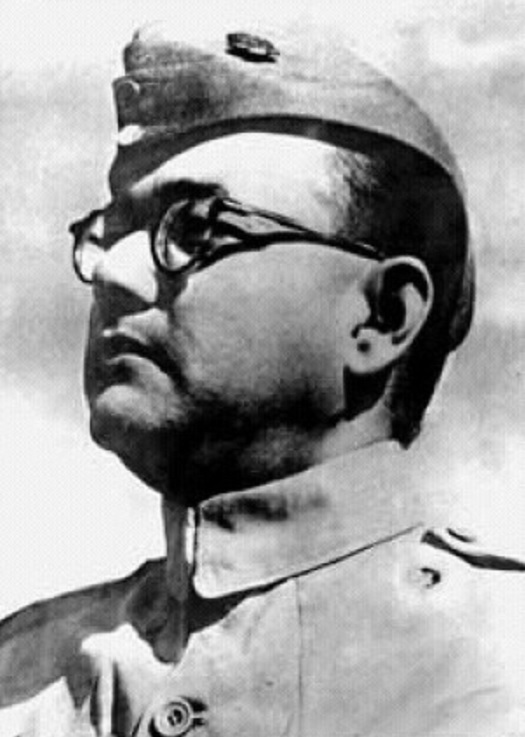 "Only on the soil of sacrifice and suffering can we raise our national edifice" – Subhash Chandra Bose
"Give me blood, and I shall give you freedom" - Subhash Chandra Bose
Nationality: British Indian
Known to be: Freedom fighter, Nationalist
Born: January 23, 1897, Cuttack
Died: August 18, 1945, Taipei, Taiwan
Subhash Chandra Bose was an Indian nationalist whose defiant patriotism made him a hero in India, but whose attempt during World War II to rid India of British rule with the help of Nazi Germany and Imperial Japan left a troubled legacy. Subhash Chandra Bose, popularly known as 'Netaji'.
He was born on January 23, 1897 at Cuttack, Orissa Division, Bengal Presidency, British India (now-a-day Odisha, India). He was the son of Prabhavati Devi and Janaki Nath Bose, an advocate belonging to a Kayastha family. He was the ninth in a family of 14 children. His family was well to do.
He was admitted to the Protestant European School, like his brothers and sisters, in January 1902. He continued his studies at this school which was run by the Baptist Mission up to 1909 and then shifted to the Ravenshaw Collegiate School. Here, we was ridiculed by his fellow students because he knew very little Bengali. After securing the second position in the matriculation examination in 1913, he got admitted to the Presidency College where he studied briefly. He was influenced by the teachings of Swami Vivekananda and Ramakrishna after reading their works at the age of 16. He felt that his religion was more important than his studies. In those days, the British in Calcutta often made offensive remarks to the Indians in public places and insulted them openly. This behavior of the British as well as the outbreak of World War I began to influence his thinking.
His nationalistic temperament came to light when he was expelled for assaulting Professor Oaten (who had manhandled some Indian students for the latter's anti-India comments. He was expelled although he appealed that he only witnessed the assault and did not actually participate in it. He later joined the Scottish Church College at the University of Calcutta and passed his B.A. in 1918 in philosophy. Bose left India in 1919 for England with a promise to his father that he would appear in the Indian Civil Services (ICS) examination. He went to study in Fitzwilliam College, Cambridge and matriculated on 19 November 1919. He came fourth in the Indian Civil Services examination and was selected, but he did not want to work under a British government which would mean serving the British. As he stood on the verge of taking the plunge by resigning from the Indian Civil Service in 1921, he wrote to his elder brother Sarat Chandra Bose: "Only on the soil of sacrifice and suffering can we raise our national edifice." He resigned from his civil service job on 23 April 1921 and returned to India.
He started the newspaper Swaraj and took charge of publicity for the Bengal Provincial Congress Committee. His mentor was Chittaranjan Das who was a spokesman for aggressive nationalism in Bengal. In the year 1923, Bose was elected the President of All India Youth Congress and also the Secretary of Bengal State Congress. He was also editor of the newspaper "Forward", founded by Chittaranjan Das. Bose worked as the CEO of the Calcutta Municipal Corporation for Das when the latter was elected mayor of Calcutta in 1924. In a roundup of nationalists in 1925, Bose was arrested and sent to prison in Mandalay, where he contracted tuberculosis.
In 1927, after being released from prison, Bose became general secretary of the Congress party and worked with Jawaharlal Nehru for independence. In late December 1928, Bose organised the Annual Meeting of the Indian National Congress in Calcutta. His most memorable role was as General Officer Commanding Congress Volunteer Corps. Author Nirad Chaudhuri wrote about the meeting:
"Bose organized a volunteer corps in uniform, its officers being even provided with steel-cut epaulettes ... his uniform was made by a firm of British tailors in Calcutta, Harman's. A telegram addressed to him as GOC was delivered to the British General in Fort William and was the subject of a good deal of malicious gossip in the (British Indian) press. Mahatma Gandhi being a sincere pacifist vowed to non-violence, did not like the strutting, clicking of boots, and saluting, and he afterwards described the Calcutta session of the Congress as a Bertram Mills circus, which caused a great deal of indignation among the Bengalis."
Subhash Chandra Bose, popularly known as 'Netaji' was a dynamic youth leader who became the president of the Indian National Congress in 1938. A little later, Bose was again arrested and jailed for civil disobedience; this time he emerged to become Mayor of Calcutta in 1930. During the mid-1930s Bose travelled in Europe, visiting Indian students and European politicians, including Benito Mussolini. He observed party organization and saw communism and fascism in action. In this period, he also researched and wrote the first part of his book The Indian Struggle, which covered the country's independence movement in the years 1920–1934. Although it was published in London in 1935, the British government banned the book in the colony out of fears that it would encourage unrest.
He escaped from British detention during the Second World War and organized the Indian National Army (INA) to overthrow the British rule in India. The Indian National Army was formed as a result of discussion between Japanese Major 'Iwaichi Fujiwara' and Mohan Singh in the second half of December 1941, and the name chosen jointly by them in the first week of January 1942.
Spoken as a part of a motivational speech for the Indian National Army at a rally of Indians in Burma on 4 July 1944, Bose's most famous quote was "Give me blood, and I shall give you freedom!" In this, he urged the people of India to join him in his fight against the British Raj. Spoken in Hindi, Bose's words are highly evocative. The troops of the INA were under the aegis of a provisional government, the Azad Hind Government, which came to produce its own currency, postage stamps, court and civil code, and was recognized by nine Axis states - Germany, Japan, Italy, the Independent State of Croatia, Wang Jingwei regime in Nanjing, China, a provisional government of Burma, Manchukuo and Japanese-controlled Philippines.
In the consensus of scholarly opinion, Subhash Chandra Bose's death occurred from third-degree burns on August 18, 1945 after his overloaded Japanese plane crashed in Japanese-ruled Formosa (now Taiwan). However, many among his supporters, especially in Bengal, refused at the time, and have refused since, to believe either the fact or the circumstances of his death. Conspiracy theories appeared within hours of his death and have thereafter had a long shelf life, keeping alive various martial myths about Bose.