Alexander Cunningham
Abha* & Avdisha*
* Wisdom World School, Kurukshetra, Haryana, India – 136118
-------------------------------------------------------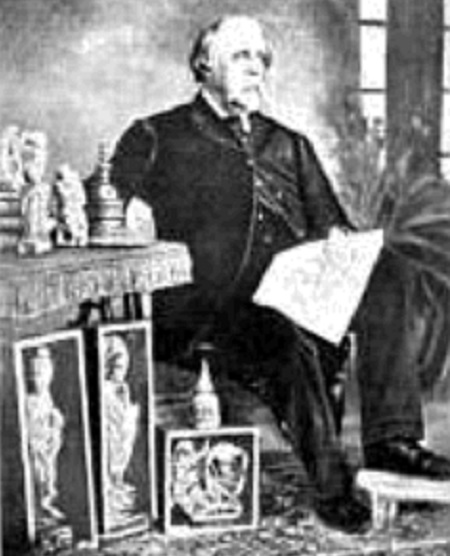 Nationality: British
Known to be: Archaeological surveyor
Born: January 23, 1814, London
Died: November 28, 1893, London
Sir Alexander Cunningham was born in London on January 23, 1814 to the Scottish poet Allan Cunningham and Jean née Walker. He received his early education at Christ's Hospital, London. Through the influence of Sir Walter Scott, both Joseph (his elder brother) and Alexander obtained cadetships at the East India Company's Addiscombe Seminary (1829–31), followed by technical training at the Royal Engineers Estate at Chatham. Alexander joined the Bengal Engineers at the age of 19 as a Second Lieutenant and spent the next 28 years in the service of British Government of India. Soon after arriving in India on June 9, 1833, he met James Prinsep. He was in daily communication with Prinsep during 1837 and 1838 and became his intimate friend, confidant and pupil. Prinsep passed on to him his lifelong interest in Indian archaeology and antiquity.
In 1861 he was appointed to the newly created position of archaeological surveyor to the Government of India; and he founded and organized what later became the Archaeological Survey of India. He is also known as 'Father of Indian Archeology'. He wrote numerous books and monographs and made extensive collections of artifacts. Some of his collections were lost, but most of the gold and silver coins and a fine group of Buddhist sculptures and jewellery were bought by the British Museum in 1894.
By 1851 he also began to communicate to William Henry Sykes and the East India Company on the value of an archaeological survey. He provided a rationale that could earn the funding needed for the venture stating that:
"...would be an undertaking of vast importance to the Indian Government politically, and to the British public religiously. To the first body it would show that India had generally been divided into numerous petty chiefships, which had invariably been the case upon every successful invasion; while, whenever she had been under one ruler, she had always repelled foreign conquest with determined resolution. To the other body it would show that Brahmanism, instead of being an unchanged and unchangeable religion which had subsisted for ages, was of comparatively modern origin, and had been constantly receiving additions and alterations; facts which prove that the establishment of the Christian religion in India must ultimately succeed."
Cunningham died on November 28, 1893 at his home in South Kensington and was buried at Kensal Green Cemetery, London. His wife had predeceased him. He was survived by his two sons.