Child Labour
"The child is the father of man." This famous line quoted by William Wordsworth refers to the importance of the child for the development of society as well as for the all-round development of the human race. We should never ignore the fact that child is the purest form of God. His innocence brings us closer to the almighty.
Child labour is a business term which means to employ children at work below the age that has been demarcated by the government.
Children's or adolescents' participation in work that does not affect their health and personal development or interfere with their schooling, is generally regarded as being something positive. This includes activities such as helping their parents around the home, assisting in a family business or earning pocket money outside school hours and during school holidays. These kinds of activities contribute to children's development and to the welfare of their families; they provide them with skills and experience, and help to prepare them to be productive members of society during their adult life.
The term "child labour" is often defined as work that deprives children of their childhood, their potential and their dignity, and that is harmful to physical and mental development. It refers to work that:
i) is mentally, physically, socially or morally dangerous and harmful to children; and
ii) interferes with their schooling by:
ü depriving them of the opportunity to attend school;
ü obliging them to leave school prematurely; or
ü requiring them to attempt to combine school attendance with excessively long and heavy work.
Labour that jeopardises the physical, mental or moral well-being of a child, either because of its nature or because of the conditions in which it is carried out, is known as "hazardous work".
Child labourers are exploited, exposed to hazardous work conditions and paid a pittance for their long hours of work. They belong to the unorganized labour force.
The child labour distribution is made on economic activities such as:
* The agriculture sector comprises activities in agriculture, hunting forestry and fishing.
* The industry sector involves mining and quarrying, manufacturing, construction and public utilities (such as electricity, gas and water).
* The services sector includes wholesale and retail; restaurants and hotels; transport, storage, communications, finance, insurance, real-estate, business survices and community as well as socio-personal services.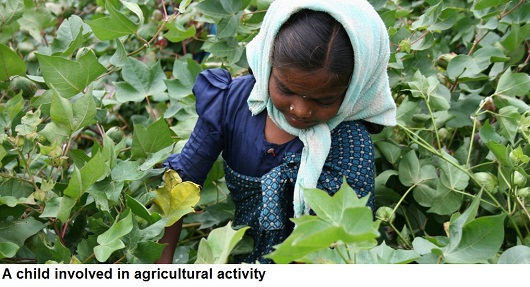 Our government has laid down various guidelines to eradicate and finish the custom of child labour from the grass root level
No child below the age of 14 years shall be employed to work in any hazardous employment

Childhood and youth are to be protected against exploitation and against moral and material abandonment.

The State shall endeavour to provide within a period of 10 year from the commencement of the Constitution free and compulsory education for all children until they have completed the age of 14 years.
Due to poverty poor parents put their children to work in order to supplement the family's economic status. This compulsion forces the parents to forget that every child has his right to enjoy his childhood. There are more than 250million child labourers in our country.
A full time education for all children by creating child labour free zones is only the best way to stop child labour.
Contributed by Abha, Xth, PMSSSchool, Kurukshetra