Barleria prionitis, Barleria appressa, Barleria coriacea, Barleria spicata
Shivani Kagra* & K.L. Dahiya**
______________________________________________________________
* Pursuing Bachelor of Ayurvedic Medicine and Surgeory; Lal Bahadur Shastri Mahila Ayurvedic College and Hospital, Bilaspur (Yamuna Nagar), Haryana, India
** Kurukshetra Global City, Kurukshetra, Haryana, India
______________________________________________________________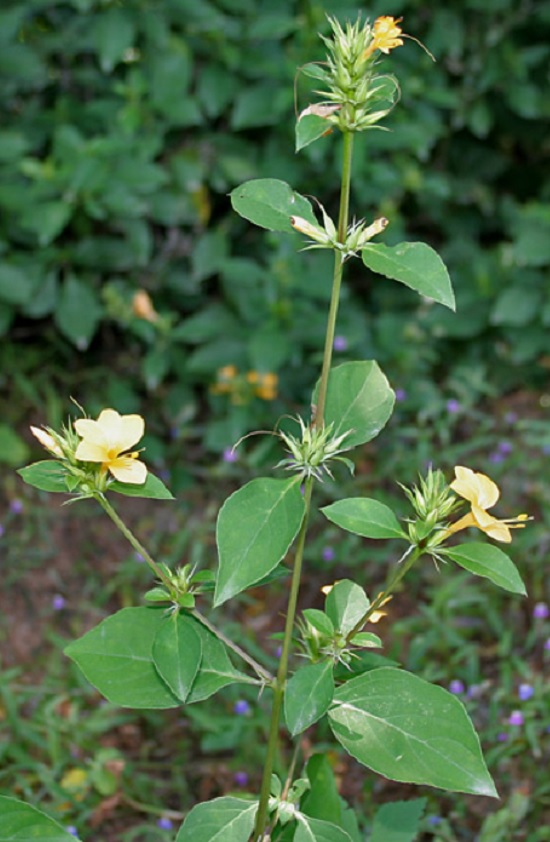 Vernacular name:
Assamese: Shinti
Bengali: Kantajhinti, Pitajhinti
English: Porcupine flower,
English: Barleria, Ommon yellow nail dye, Porcupine Flower, Thorny nail dye
Gujarati: Kanta-Saerio, Kantasalio, Pilikantashelio, Pilo kanta sheriyo
Hindi: Jhinti, Parush, Pila piyabansa, Pili katsaraiya, Pivlikatekoranti, Sahacara, Vajradanti, Vajradanti
Kannada: Mullugoranta, Mullugoranti, Sahacara
Konkani: Korant
Malayalam: Kirimkurunji, Karim Kurunni, Kuttivetila
Marathi: Kolita, Koranta, Koranti, Pivali koranti
Oriya: Dasakeranda, Daskaranta
Punjabi: Kerandaka, Koranda, Kurantaka, Sahacar
Sanskrit: Artagalah, Bana, Dasi kurantakah, Jhinti, Kakubha, Kinkiratah, Kurantakah, Kuravakah, Mahasaha, Mrdukantah, Pitakurantakah, Pitakuravah, Pitamlanah, Pitapushpakah, Pitasairiyakah, Sahacharah, Udyanapaki, Vajradanti
Tamil: Cem-mulli, Korantam, Koti-p-pacalai, Kovintam, Kundan, Kurinci, Kutan, Mancat-cemmulli, Sammulli
Telugu: Gorantachettu, Mulu Gorinta Chettu
Urdu: Pila Bansa, Piya Bansa
Taxonomic classification
Kingdom: Plantae - plantes, Planta, Vegetal, plants
Subkingdom: Viridiplantae
Infrakingdom: Streptophyta - land plants
Superdivision: Embryophyta
Division: Tracheophyta - vascular plants, tracheophytes
Subdivision: Spermatophytina - spermatophytes, seed plants, phanérogames
Class: Magnoliopsida
Superorder: Asteranae
Order: Lamiales
Family: Acanthaceae - acanthacées
Genus: Barleria L. – Philippine violet
Species: Barleria prionitis L. – Barleria, Ommon yellow nail dye, Porcupine Flower, Thorny nail dye - (Syn. Barleria appressa, Barleria coriacea, Barleria spicata)
Phytogeography: Mainly found in Asia and Africa including India.
Description: Porcupine flower is an erect, prickly shrub, usually single-stemmed, growing to about 1.5 meter tall.
Roots: Well developed, upto 1 cm thick at the top, cylindrical and tapering, bearing lateral branches and numerous rootlets; surface rough due to numerous dot-like lenticels and root scars of fallen roots; external surface greyish-brown, bark thin with smooth internal surface; wood cream coloured; fracture, hard and laminated; odour and taste not characteristic.
Stems: Erect, 1-8 mm thick, terete, hard, glabrous, nodes swollen, branching at nodes, young stem grey, slightly four angled, usually with 3-4 divaricate spines at axil of leaf; mature stem cylindrical with longitudinally arranged or scattered dot-like lenticels; externally greyish to light brown; a few mature stem slightly hollow.
Leaves: Dorsiventral, variable in size,6-9.5 cm long, 2.5 - 3.5 cm wide, simple, elliptic, acuminate, entire, acute, reticulate, unicostate, glabrous above, glabrous or pubescent beneath; petiole short.
Flowers: Sessile, often solitary in the lower axils becoming spicate above; bracts foliaceous, 16 by 4.5 mm, oblong or lanceolate, acute, bristle-tipped, nearly glabrous; bracteoles 1.3 cm long, narrowly linear, subulate (almost spinous), bristle-tipped; calyx, divided almost to the base, one of the outer sepals rather more than 1.3 cm long, the opposite sepal rather less than 1.3 cm long, 3.4 mm broad, both oblong-lanceolate, mucronate; the 2 inner sepals 1.5 mm wide and as long as the shorter of the outer ones, linear lanceolate, mucronate; corona, 3.2-4.5 cm long, yellow, slightly pubescent outside, glabrous inside, somewhat 2 lipped; upper lip 2 cm long or more, deeply 4 lobed, the lobes oblong-obovate, round; lower lip oblong-obovate, round, entire; tube 1.9-2.2 cm long; stamens 2 fertile and 2 staminodes; filaments of the fertile stamens exserted beyond the corona tube, those of the staminode very short; ovary superior of two fused carpels; style, simple, usually long with two stigma.
Fruits: Capsules, 2-2.5 cm long, ovoid with a long tapering solid beak; 2 seeded.
Seeds: Compressed, 0.8 cm in diameter and clothed with silky appressed hairs.
Parts used: Leaves, roots, aerial parts, flowers, whole plant
Phytochemical Constituents: b-Sitosterol; 6-O-trans-p-coumaroyl-8-O-acetylshanzhiside methyl ester; 7-methoxydiderroside; Acetylbarlerin; Alkaloids; Barlerin; Barlerinoside; Iridoid glycosides; Lupulinoside; Phenylethanoid glycoside; Potassium; Shanzhiside methyl ester.
Pharmacological actions: Anthelmintic; Antiarthritic; Antibacterial; Antidiabetic; Antidiarrheal; Antifertility; Antifungal; Anti-inflammatory; Anti-nociceptive; Antioxidant; Antiseptic; Antispermatogenic; Antistress; Antiviral; Blood purifier; Cytoprotective; Cytotoxic; Diuretic; Expectorant; Hepatoprotective, hepatocuritive; Immunorestorative; Tonic; Wound healing.
Medicinal uses: Asthma; Boils; Cataract; Catarrh; Dropsy; Earache; Fever; Gastrointestinal disorders; Glandular swellings; Gout; Hepatosis, hepatopathy, hepatitis; Inflammation; Joint pains; Leprosy; Leucoderma; Malaria; Neuralgia; Oedema; Piles; Pruritis; Pyorrhea; Respiratory diseases; Rheumatism; Scabies; Sciatica; Skin diseases; Snake bite; Toothache; Tympanitis; Ulcers; Whooping cough.
It has numerous medicinal properties including treating fever, respiratory diseases, toothache, joint pains and a variety of other ailments; and it has several cosmetic uses. A mouthwash made from root tissue is used to relieve toothache and treat bleeding gums. The leaves are used to promote healing of wounds and to relieve joint pains and toothache. Because of its antiseptic properties, extracts of the plant are incorporated into herbal cosmetics and hair products to promote skin and scalp health.
Dosage and administration: Few drops of mixture of leaf juice and kapur is dropped in ear to control earache and tympanitis. Juice obtained from macerated leaves is taken.
Whole plant: 50-100 gm for decoction.
References:
Akter S., et al., 2012, "A selection of medicinal plants used as blood purifiers by folk medicinal practitioners of Bangladesh," American-Eurasian Journal of Sustainable Agriculture; 6(3):188-194. [Web Reference]
Aneja K.R., Joshi R. and Sharma C., 2010, "Potency of Barleria prionitis L. bark extracts against oral diseases causing strains of bacteria and fungi of clinical origin," New York Sci J.; 3(11): 5-12. [Web Reference]
Ata A., Kalhari K.S. and Samarasekera R., 2009, "Chemical constituents of Barleria prionitis and their enzyme inhibitory and free radical scavenging activities," Phytochemistry Letters; 2(1): 37-40. [Web Reference]
Ayurvedic Pharmacopoeia Committee, 2001, "The Ayurvedic Pharmacopoeia of India, Part I, Volume III," New Delhi, India: Government of India, Ministry of Health and Family Welfare, Department of Ayurveda, Yoga & Naturopathy, Unani, Siddha and Homoeopathy (AYUSH).
Flowers of India, "Porcupine Flower," Retrieved on December 06, 2017. [Web Reference]
Geetha M. and Wahi A.K., "Antidiabetic activity of Barleria prionitis Linn.," Journal of natural remedies; 1(1): 64-66. [Web Reference]
Gupta R.S., et al., 2000, "Antifertility studies of the root extract of the Barleria prionitis Linn in male albino rats with special reference to testicular cell population dynamics," Journal of ethnopharmacology; 70(2): 111-117. [Web Reference]
ITIS, 2017, "Barleria prionitis L.,"Integrated Taxonomic Information System on-line database, March 1, 2017. [Web Reference]
Jaiswal S.K., et al., "Evaluation of flower of Barleria prionitis for anti-inflammatory and anti nociceptive activity," International Journal of Pharma and Bio Sciences; 1(2): 1-10. [Web Reference]
Kanthale P.R. and Biradar S.D., 2012, "Ethnomedicinal plants and their utilization by tribals of Mahur range forest of Nanded district of Maharashtra, India," Indian Journal of Natural Products and Resources; 3(4): 578-581. [Web Reference]
Maji A.K., et al., 2011, "Mast cell stabilization and membrane protection activity of Barleria prionitis L.," Pharmacognosy Journal; 3(24): 67-71. [Web Reference]
Sawarkar H.A., et al., 2016, "Antimicrobial and cytotoxic activities of Barleria prionitis and Barleria grandiflora: A comparative study," Bangladesh Journal of Pharmacology; 11(4): 802-809. [Web Reference]
Singh B., et al., 2005, "Chemistry and hepatoprotective activity of an active fraction from Barleria prionitis Linn. in experimental animals," Phytotherapy Research; 19(5): 391-404. [Web Refefence]
Singh B., et al., 2003, "Anti-inflammatory activity of 'TAF'an active fraction from the plant Barleria prionitis Linn.," Journal of Ethnopharmacology; 85(2): 187-193. [Web Reference]
Singh K. and Gupta R.S., 2016, "Antifertility activity of β-sitosterol isolated from Barleria prionitis (L.) roots in male albino rats.," Int J Pharm Pharm Sci; 8(5): 88-96. [Web Reference]