Barleria strigosa, Barleria caerulea, Barleria polytricha
Shivani Kagra* & K.L. Dahiya**
______________________________________________________________
* Pursuing Bachelor of Ayurvedic Medicine and Surgeory; Lal Bahadur Shastri Mahila Ayurvedic College and Hospital, Bilaspur (Yamuna Nagar), Haryana, India
** Kurukshetra Global City, Kurukshetra, Haryana, India
______________________________________________________________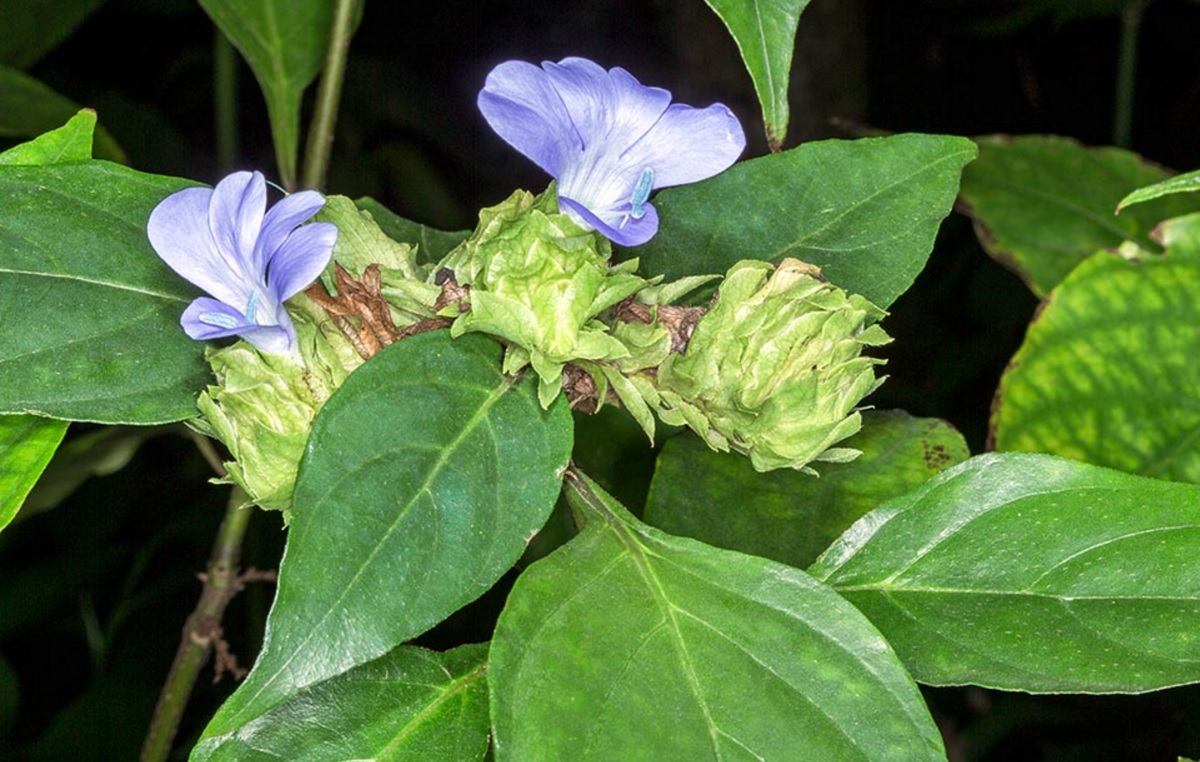 Vernacular name:
Bengali: Jhaati, Kaaraajaati
English: Bristly Blue Barleria
Gujarati: Kaataseriyo
Hindi: Nili, Katsaraiya
Malayalam: Nilakurnni
Marathi: Koraanti, Wahiti
Sanskrit: Dasi, Bana, Krsna, Saireyakah, Nilasaireyakah
Tamil: Shemmuli
Telugu: Mullugorant, Nilambaramu
Thai: Sang ko ra ni, Ya hua nak
Taxonomic Hierarchy
Kingdom: Plantae – plantes, Planta, Vegetal, plants
Subkingdom: Viridiplantae
Infrakingdom: Streptophyta – land plants
Superdivision: Embryophyta
Division: Tracheophyta – vascular plants, tracheophytes
Subdivision: Spermatophytina – spermatophytes, seed plants, phanérogames
Class: Magnoliopsida
Superorder: Asteranae
Order: Lamiales
Family: Acanthaceae – acanthacées
Genus: Barleria L. – Philippine violet
Species: Barleria strigosa Willd. – Bristly Blue Barleria - (Syn. Barleria caerulea, Barleria polytricha)
Phytogeography: Native to tropical regions of Asia. Bengal, Orissa, Chhota Nagpur, Sikkim, Assam; much cultivated in India.
Description: A subshrub up to 80 cm tall, branched. Stems are nearly round, coarsely fulvous bristly.
Leaves: Leaf-stalk is 0.7-2.5 cm, brownish yellowish bristly; leaf blade elliptic to ovate, 5.5-15 x 2.2-5.5 cm, both surfaces fulvous bristly, base wedge-shaped, narrowing into winged leaf-stalk, tip pointed.
Flowers: Borne in dense spikes in leaf-axils and at branch-ends, up to 5 cm. Bracts are oblong to elliptic-oblong, below shortly bristly along veins, tip sharply pointed; bracteoles elliptic, about 1.2 cm, 1-veined, margin fringed with hairs, tip pointed. Outer sepals are purple, ovate, about 3.2 × 1.8 cm, base rounded, margin sub-entire to toothed, tip pointed; inner sepals yellowish brown, lance shaped, about 1.5 × 0.2 cm, both surfaces bristly, tip pointed. Flower are blue, purplish, 5-6 cm; tube basally cylindric for about 3.7 cm, throat about 1.2 cm; lobes obovate-oblong, about 2 × 1-1.5 cm, subequal. Stamens 4; filaments basally hairy, longer pair about 1.3 cm with anthers about 5 mm, shorter pair about 3 mm with anthers about 1.5 mm; staminode 1. Ovary ovoid, about 3 mm; style about 2.5 cm. Capsule ellipsoid, 1.4-1.8 × about 0.5 cm, hairless, shining, 4-seeded.
Flowering season: November
Parts used: Roots, leaves
Phytochemical Constituents: (+)-lyoniresinol-3a-O-b-D-glucoside; (3R)-1-octen-3-ol-3-O-b-D-xylosyl-(1→6)- b-D-glucoside; b-sitosterol; 10-Otrans-coumaryl-eranthemoside; 7-Oacetyl-8-epi-loganic acid; Apigenin-7-O-α-L-rhamnosyl-(1→6)-O-b-D-glucoside; Apiginin; Decaffeoyl verbascoside; Isoverbascoside; Parvifloroside A; Parvifloroside B; p-coumaric acid; Phenylethanoid glycosides; p-hydroxybenzoic acid; Strigoside (4-hydroxyphenylethyl-4-O-b-D-glucopyranosyl-(1→3)-O-a-L-rhamnopyranoside); Vanillic acid; Verbascoside; γ-sitosterol.
Pharmacological actions: Antidote; Antipyretic; Hepatoprotective, hepatocuritive; Restorative.
Medicinal uses: Fever; Poisoning; Hepatosis, hepatopathy, hepatitis.
Dosage and administration: Roots: 50 ml decoction prepared by boiling 10 gm root , 20 gm 'sunthi' (dried rhizomes of ginger), 7 black peppers, 3-5 small cardamoms and 10 gm 'kala jeera' (Nigella sativa) given twice daily for 7 days for bile troubles.
Roots: 10-20 ml juice; 50-100 ml decoction.
References
Ayurvedic Pharmacopoeia Committee, 2006, "The Ayurvedic Pharmacopoeia of India, Part I, Volume V," New Delhi, India: Government of India, Ministry of Health and Family Welfare, Department of Ayurveda, Yoga & Naturopathy, Unani, Siddha and Homoeopathy (AYUSH).
Flowers of India, "Bristly Blue Barleria," Retrieved on September 25, 2017. [Web Reference]
ITIS, 2017, "Barleria L.," Integrated Taxonomic Information System on-line database, Retrieved on September 25, 2017. [Web Reference]
Manapradit N., Poeaim S. and Charoenying P., 2014, "Cytotoxicity and antimicrobial activities of leaf extracts from Barleria strigosa," The 3rd International Conference on Integration of Science and Technology: 40-50. [Web Reference]
Prapalert W., et al., 2017, "Two Phenylethanoid Glycosides, Parvifloroside A and B, Isolated from Barleria strigosa," CHIANG MAI JOURNAL OF SCIENCE; 44(1): 168-175. [Web Reference]
Rani S., 2014, "INDIAN HERBAL MEDICINE AS HEPATOPROTECTIVE AND HEPATOCURATIVE: A REVIEW OF SCIENTIFIC EVIDENCE," LIFE SCIENCES LEAFLETS; 50: 61-115. [Web Reference]