Bauhinia racemosa
Shivani Kagra* & K.L. Dahiya**
______________________________________________________________
* Pursuing Bachelor of Ayurvedic Medicine and Surgeory; Lal Bahadur Shastri Mahila Ayurvedic College and Hospital, Bilaspur (Yamuna Nagar), Haryana, India
** Kurukshetra Global City, Kurukshetra, Haryana, India
______________________________________________________________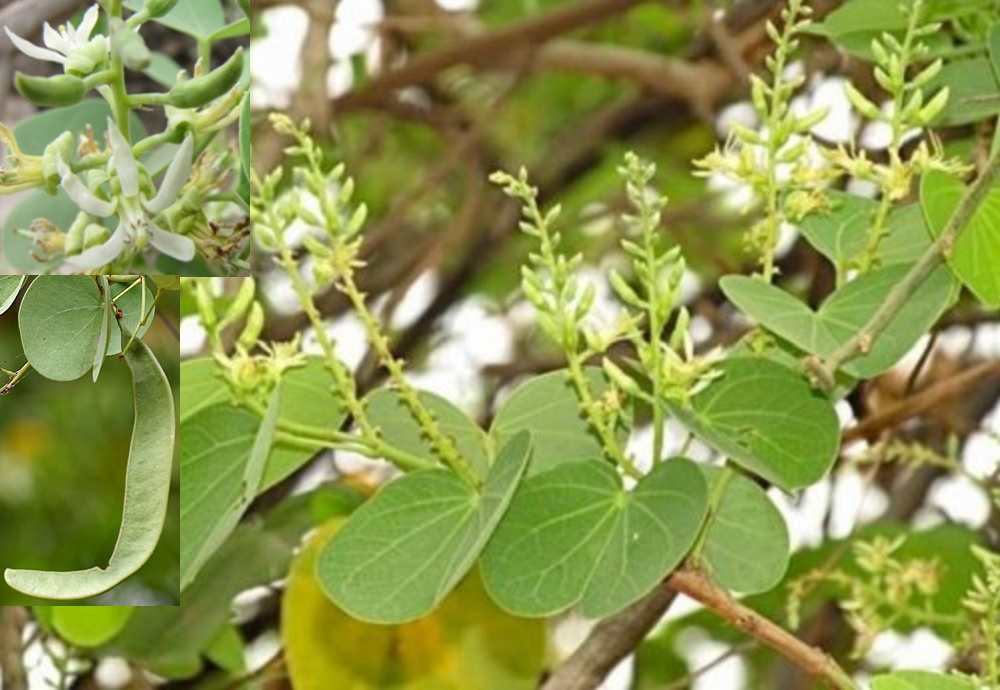 Vernacular name:
Bengali: Banraji, Banraj, Bauraj, Sada Kanchana
English: Bidi Leaf Tree
Gujarati: Aasotaro, Asundro, Apta
Hindi: Asanta, Ashta, Kachnal, Katmauli, Jhinjheri
Kannada: Aapta, Aralukadumandara, Banne, Kadu manthara
Konkani: Apto
Malayalam: Arampaali, Kutabuli, Malayaththi, Mandarum
Marathi: Apta, Aapataa, Ashtaa, Sona
Oriya: Kanchana
Punjabi: Kosundra, Taur
Sanskrit: Yamalapatrakah, Yugmapatra
Tamil: Atti, Tataki
Telugu: Ari, Are, Pacchare, Tellaarecettu
Urdu: Gul-e-anehnal, Kachnal
Taxonomic classification
Kingdom: Plantae - plantes, Planta, Vegetal, plants
Subkingdom: Viridiplantae
Infrakingdom: Streptophyta - land plants
Superdivision: Embryophyta
Division: Tracheophyta - vascular plants, tracheophytes
Subdivision: Spermatophytina - spermatophytes, seed plants, phanérogames
Class: Magnoliopsida
Superorder: Rosanae
Order: Fabales
Family: Fabaceae - peas, legumes; Caesalpiniaceae (Gulmohar family)
Genus: Bauhinia L. – bauhinia
Species: Bauhinia racemosa - Bidi Leaf Tree
Phytogeography: Widely distributed throughout the tropics including India, Bangladesh, Ceylon, China and Timor.
Description: A small crooked tree with drooping branches, growing up to 3-5 meter tall.
Leaves: Leaves are typical Bauhinia like, shaped like cow's hooves. They are broader than long, 2-5 x 3-6 cm. The leaves are used for making bidis.
Flowers: Small flowers are borne in loose racemes, 5-10 cm long. Flowers are about 1 cm, greenish white. Petal are 5, narrow lancelike, stamens.
Fruits: Pods 13-25 cms by 1.8-2.5 cms in size, generally curved, swollen, rigid.
Seeds: 12-20, glabrous, dark reddish brown or black, compressed, 8mm long.
Flowering season: February-May.
Propagation: Seeds
Parts used: Roots, stembark, buds, flowers
Phytochemical Constituents: b-sitosterol; 2-dimethyl chroman; Alkaloids; Anthocyanosides; Betulin; Catechin; Coumarins; Flavonoids; Galactolipids; Glycosides; Isoquercetin; Naringin; Quercetin; Saponins; Silymarin; Sophoradin derivatives; Steroids; Stilbens; Tannins; Tetracyclic 2; Tetracyclic lupeol; Triterpenoids.
Pharmacological actions: Analgesic; Anthelmintic; Anticataleptic; Antidiabetic; Antidiarrhoeal; Antifilarial; Antifungal; Antihistaminic; Anti-inflammatory; Antimicrobial; Antioxidant; Antipyretic; Antispasmodic; Antitumor; Antiulcer; Apoptotic; Astringent; Blood purifier; Carminative; Cytotoxic; Hepatoprotective, hepatocurative; Hypotensive;
Hypothermic.
Medicinal uses: Blood disorders; Burning sensation; Cancer; Cervical lymphadenitis; Diabetes mellitus; Diarrhoea; Dysentery; Dyslipidemia; Fever; Goiter; Headache; Hepatopathy, Hepatosis, hepatitis; Intermittent fever; Malaria; Metabolic disorder; Obesity; Pain; Peptic ulcer; Psychotic syndrome; Thirst; Ulcers.
Other uses: The tree yields a useful gum and fibers, bark is used for dyeing. Juice of the plant which is extracted from the tender shoots is mixed with mother's milk and used to clean and cool eyes. The bark fiber is used to make ropes to make ladders and to tie cows.
Dosage and administration: Decoction of root is taken. Buds: 1-3 gm in powder form.
References
Akter S., et al., 2012, "A selection of medicinal plants used as blood purifiers by folk medicinal practitioners of Bangladesh," American-Eurasian Journal of Sustainable Agriculture; 6(3):188-194. [Web Reference]
Ayurvedic Pharmacopoeia Committee, 2008, "The Ayurvedic Pharmacopoeia of India, Part I, Volume VI," New Delhi, India: Government of India, Ministry of Health and Family Welfare, Department of Ayurveda, Yoga & Naturopathy, Unani, Siddha and Homoeopathy (AYUSH).
Borikar V.I., et al., 2009, "Study of antiulcer activity of Bauhinia racemosa Lam in rats," Veterinary World; 2(6): 215-216. [Web Reference]
Flowers of India, "Bidi Leaf Tree," Retrieved on November 18, 2017. [Web Reference]
Gupta M., et al., 2004, "Antioxidant and hepatoprotective effects of Bauhinia racemosa against paracetamol and carbon tetrachloride induced liver damage in rats," Iranian Journal of Pharmacology & Therapeutics; 3(1): 12-20. [Web Reference]
Gupta M., et al., 2004, "Antitumor activity and antioxidant role of Bauhinia racemosa against Ehrlich ascites carcinoma in Swiss albino mice [corrected]," Acta Pharmacologica Sinica; 25(8): 1070-1076. [Web Reference]
Gupta, M., et al., 2005, "Anti-inflammatory, analgesic and antipyretic effects of methanol extract from Bauhinia racemosa stem bark in animal models," Journal of Ethnopharmacology; 98(3): 267-273. [Web Reference]
ITIS, 2017, "Bauhinia L.,"Integrated Taxonomic Information System on-line database, March 1, 2017. [Web Reference]
Kumar R.S., et al., 2005, "Antioxidant and antimicrobial activities of Bauhinia racemosa L. stem bark," Brazilian journal of medical and biological research; 38(7): 1015-1024. [Web Reference]
Kumar V., et al., 2017, "Biological activity of Bauhinia racemosa against Diabetes and Interlinked Disorders like Obesity and Hyperlipidemia," Clinical Phytoscience; 3(1): 7. [Web Reference]
Nirmal S.A., et al., 2011, "Antihistaminic effect of Bauhinia racemosa leaves," Journal of young pharmacists; 3(2): 129-131. [Web Reference]
Pawar D.S. and Nasreen S., 2016, "Phytochemical screening and antifungal activity of Bauhinia racemosa and Dolichandrone falcate," International Journal of Applied Research; 2(8): 243-245. [Web Reference]
Rahman M.A., Akhtar J. and Arshad M., 2016, "Evaluation of cytotoxic potential and apoptotic effect of a methanolic extract of Bauhinia racemosa Lam. against a human cancer cell line, HeLa," European Journal of Integrative Medicine; 8(4): 513-518. [Web Reference]
Sashidhara K.V., et al., 2012, "Galactolipids from Bauhinia racemosa as a new class of antifilarial agents against human lymphatic filarial parasite, Brugia malayi," European journal of medicinal chemistry; 50: 230-235. [Web Reference]
Sengupta R., Sheorey S.D. and Hinge M.A., 2012, "Analgesic and anti-inflammatory plants: an updated review," International Journal of Pharmaceutical Sciences Review and Research; 12(2): 114-119. [Web Reference]