Berberis aristata, Berberis coccinea, Berberis macrophylla
Shivani Kagra* & K.L. Dahiya**
______________________________________________________________
* Pursuing Bachelor of Ayurvedic Medicine and Surgeory; Lal Bahadur Shastri Mahila Ayurvedic College and Hospital, Bilaspur (Yamuna Nagar), Haryana, India
** Kurukshetra Global City, Kurukshetra, Haryana, India
______________________________________________________________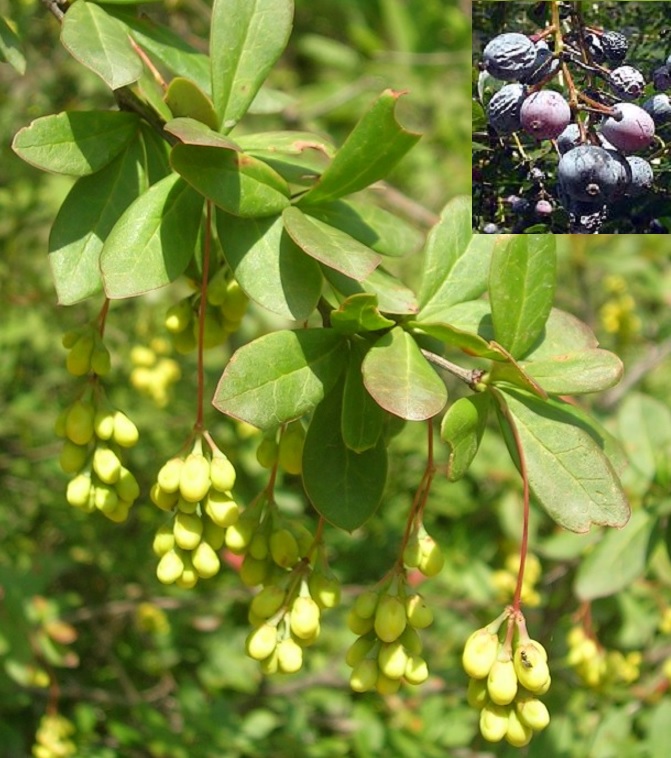 Vernacular name:
Assamese: Kulekhara
Bengali: Darhaldi, Daaruharidraa, Daruharidra
English: Indian Barberry, Tree Turmeric, Chitra
Gujarati: Chitraa Daruharidra, Daaruhaldar, Daaruhaldi, Darhald, Daruhuladur, Talimkhana, Zarishka (Fruit)
Hindi: Chitra, Chotra, Dar-chob, Dar-hald, Darhald, Daruhaldi, Darhald, Talmakhana
Kannada: Baagi soothra, Bagisutra, Maradarishana, Maradrishina, Daruhaldi, Nirmulli, Kolavalike, Kolavankae
Kashmiri: Ras ashud, Rasvat
Malayalam: Kasturimanjal, Maradarisina, Maramannal, Maramanjal, Vayalchulli
Marathi: Daruhalad, Talimakhana
Oriya: Daruharidra, Daaruhaldi, Daruhalidi, Koilrekha, Koillekha
Punjabi: Chitra, Daarhaldi, Kasmal, Simlu, Sumalu, Sumlu
Sanskrit: Daruharidra, Darvi, Darurajani, Darhald, Katamkateri
Tamil: Gangeti, Nirmulle, Kasturimanjal, Varatiu manjal
Telugu: Daruharidra, Kasthoori pushpa, Kasturipaspu, Manupasupu, Nirugobbi
Urdu: Aarghis, Darhald, Darhald nim kofta, Talmakhana, Zarishk
Taxonomic Hierarchy
Kingdom: Plantae – plantes, Planta, Vegetal, plants
Subkingdom: Viridiplantae
Infrakingdom: Streptophyta – land plants
Superdivision: Embryophyta
Division: Tracheophyta – vascular plants, tracheophytes
Subdivision: Spermatophytina – spermatophytes, seed plants, phanérogames
Class: Magnoliopsida
Superorder: Ranunculanae
Order: Ranunculales
Family: Berberidaceae – barberries
Genus: Berberis L. – holly grape, Oregon-grape, barberry, algerita, berbéris
Species: Berberis aristata DC. – Indian Barberry, Tree Turmeric, Chitra - (Syn. Berberis coccinea, Berberis macrophylla)
Phytogeography: India - Temperate Himalaya: 2000-3500 meter (Kullu-Kumaon), Nilgiri hills and other parts of the world.
Description: An erect spiny shrub, 2-3 meter in height. It is a woody plant, with bark that appears yellow to brown from the outside and deep yellow from the inside. The bark is covered with three-branched thorns, which are modified leaves, and can be removed by hand in longitudinal strips.
Leaves: Arranged in tufts of 5-8 and are approximately 4.9 cm long and 1.8 cm broad. The leaves are deep green on the dorsal surface and light green on the ventral surface. The leaves are simple with pinnate venation. The leaves are leathery in texture and are toothed, with several to many small indentations along the margin of the leaf.
Flowers: The yellow flowers that develop are 1.2 cm, in a racemose inflorescence, with 11-16 flowers per raceme, arranged along a central stem. The flower is polysepalous, with 3 large and 3 small sepals, and polypetalous, with 6 petals in total. Flowers have 6 stamens, 5-6 mm long.
Fruits: The plant produces bunches of succulent, acidic, edible berries that are bright red in color and have medicinal properties. The berries are approximately 7 mm long, 4 mm in diameter and weigh about 227 mg.
Propagation: Seeds
Parts used: Rootbark, roots, stem, whole plant
Phytochemical Constituents: 1-O methyl pakistanine; Alkaloids; Aromoline; Berbamine; Berberine; Bis isoquinoline; Columbamine; Dehydrocaroline; Dihyrokarachine; Epiberberine; Isoquinoline; Jatrorhizine; Karachine; Oxyberberine; Oxycanthine; Pakistanine; Palmatine; Protoberberine; Pseudoberberine chloride; Pseudopalmatine chloride; Secobisbenzlisoquinoline; Taxilamine; Tetrahydropalmitine.
Pharmacological actions: Anaesthetic - local; Antiarthritic; Antibacterial; Anticancer; Antidepressant; Antidiabetic; Antifungal; Antihelminthic; Anti-inflammatory; Antimicrobial; Antioxidant; Antiprotozoal; Antipsoriatic Antipyretic; Antiseptic; Antiviral; Cholagogue; Diaphoretic; Hepatoprotective, hepatocuritive; Hypotensive; Immuno-stimulating; Laxative; Phytotoxic; Stomachic; Tuberculostatic.
Medicinal uses: Arthritis; Blood disorders; Diabetes mellitus; Diarrhoea; Fever; Hepatomegaly; Hepatosis, hepatopathy, hepatitis; Increased frequency of urine; Nausea; Obesity; Ophthalmia; Poisoning; Pruritis; Stiffness in thigh muscles; Tastelessness; Thirst; Turbid urine; Wounds.
Tree Turmeric is a revered herb in Ayurvedic medicine. It is claimed to possess antibacterial, anti-inflammatory, antipyretic and antiseptic properties, the herb is used as a cholagogue, stomachic, laxative and diaphoretic.
Fruits and root good for checking enlargement of liver associated with malaria and in jaundice.
Dosage and administration: Stem: 5-10 ml in Kvatha form. In case of diabetes mellitus, root bark extract (5–10 ml) taken twice daily (after breakfast and dinner) for 1–2 weeks. Powder: 3-6 gm.
Fruits: 3-5 gm in powder form.
References
Ayurvedic Pharmacopoeia Committee, 1999, "The Ayurvedic Pharmacopoeia of India, Part I, Volume II," New Delhi, India: Government of India, Ministry of Health and Family Welfare, Department of Ayurveda, Yoga & Naturopathy, Unani, Siddha and Homoeopathy (AYUSH).
Ayurvedic Pharmacopoeia Committee, 2008, "The Ayurvedic Pharmacopoeia of India, Part I, Volume VI," New Delhi, India: Government of India, Ministry of Health and Family Welfare, Department of Ayurveda, Yoga & Naturopathy, Unani, Siddha and Homoeopathy (AYUSH).
Chander V., et al., 2017, "A review on Pharmacological potential of Berberine; an active component of Himalayan Berberis aristata," The Journal of Phytopharmacology; 6(1): 53-58. [Web Reference]
Chhetri D.R., Parajuli P. and Subba G.C., 2005, "Antidiabetic plants used by Sikkim and Darjeeling Himalayan tribes, India," Journal of Ethnopharmacology; 99(2): 199-202. [Web Reference]
Flowers of India, "Indian Barberry," Retrieved on July 29, 2017. [Web Reference]
ITIS, 2017, "Berberis L.," Integrated Taxonomic Information System on-line database, Retrieved on July 29, 2017. [Web Reference]
Jayaprasad B., Thamayandhi D. and Sharavanan P.S., 2012, "Traditionally using antidiabetic medicinal plants in Tamil Nadu," International Journal of Research in Pharmaceutical and Biosciences; 2(1): 1-8. [Web Reference]
Malik, Zakir Hussain, et al. "IN VITRO ANTIMICROBIAL ACTIVITY AND PRELIMINARY PHYTOCHEMICAL ANALYSIS OF BERBERIS ARISTATA." (2017). [Web Reference]
Ministry of Ayush and Govt. of India, 2016, "The Ayurvedic Pharmacopoeia of India Part I Volume IX," PHARMACOPOEIA COMMISSION FOR INDIAN MEDICINE & HOMOEOPATHY, GHAZIABAD; P. 9-15.
Nimisha D.A.R., Fatima Z. and Neema C.D.K., 2017, "Antipsoriatic and anti-inflammatory studies of Berberis aristata extract loaded nanovesicular gels," Pharmacognosy magazine; 13(Suppl 3): S587-594. [Web Reference]
Rani S., 2014, "INDIAN HERBAL MEDICINE AS HEPATOPROTECTIVE AND HEPATOCURATIVE: A REVIEW OF SCIENTIFIC EVIDENCE," LIFE SCIENCES LEAFLETS; 50: 61-115. [Web Reference]
Rehman S. and Naim F., 2016, "A Comparative Study of Antidepressant Activity of Aqueous Extract of Berberis Aristata with Fluoxetine in Albino Rats," International Archives of BioMedical and Clinical Research; 2(3): 110-113. [Web Reference]
Rizwan M., et al., 2017, "Phytochemical and biological screening of Berberis aristata," Advancements in Life Sciences; 5(1): 01-07. [Web Reference]
Subramoniam A., Madhavachandran V. and Gangaprasad A., 2013, "Medicinal plants in the treatment of arthritis," Ann Phytomedicine; 2: 3-36. [Web Reference]
Surveswaran S., et al., 2007, "Systematic evaluation of natural phenolic antioxidants from 133 Indian medicinal plants," Food Chemistry; 102(3): 938-953. [Web Reference]