Bergenia ciliata, Bergenia ligulata
Shivani Kagra* & K.L. Dahiya**
______________________________________________________________
* Pursuing Bachelor of Ayurvedic Medicine and Surgeory; Lal Bahadur Shastri Mahila Ayurvedic College and Hospital, Bilaspur (Yamuna Nagar), Haryana, India
** Kurukshetra Global City, Kurukshetra, Haryana, India
______________________________________________________________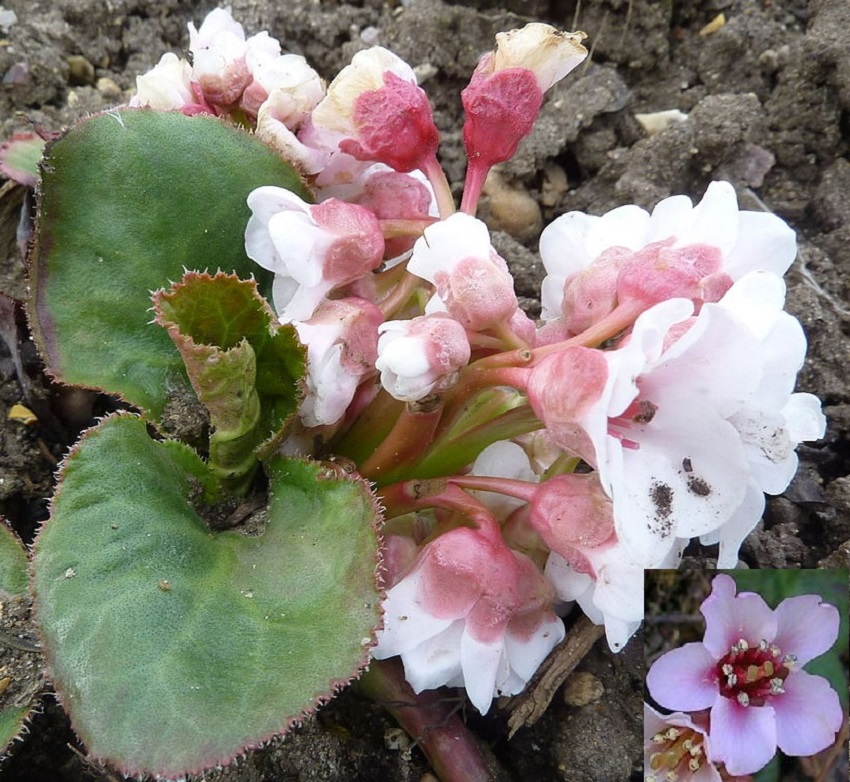 Vernacular name:
Assamese: Patharkuchi
Bengali: Patharkuchi, Himasagara, Patrankur
English: Frilly bergenia, Hairy bergenia, Winter begonia
Gujarati: Pashanbheda, Pakhanbheda
Hindi: Pakhanabheda, Silphara, Patharcua, Pakhanabhed, Silpbheda
Kannada: Alepgaya, Pahanbhedi, Hittaga, Pasanaberu, Hittulaka
Kashmiri: Pashanbhed
Malayalam: Kallurvanchi, Kallurvanni, Kallorvanchi
Marathi: Pashanbheda
Oriya: Pasanbhedi, Pashanabheda
Punjabi: Kachalu, Pashanbhed
Sanskrit: Asmabhedaka, Silabheda
Tamil: Sirupilai
Telugu: Kondapindi
Taxonomic Hierarchy
Kingdom: Plantae – plantes, Planta, Vegetal, plants
Subkingdom: Viridiplantae
Infrakingdom: Streptophyta – land plants
Superdivision: Embryophyta
Division: Tracheophyta – vascular plants, tracheophytes
Subdivision: Spermatophytina – spermatophytes, seed plants, phanérogames
Class: Magnoliopsida
Superorder: Saxifraganae
Order: Saxifragales
Family: Saxifragaceae – saxifrages, saxifragacées
Genus: Bergenia Moench – elephant-ear
Species: Bergenia ciliata (Haw.) Stemb. - Frilly bergenia, Hairy bergenia, Winter begonia (Syn. Bergenia ligulata (Wall.) Engl.)
Phytogeography: Found in the Himalayas, from Afghanistan to South-East Tibet, at altitudes of 1800-4300 meter. Khasia Hills (1300 meter)
Description: A perennial herb with flowers white, pink or purple, borne in a spreading or dense cluster, atop a up to 25 cm long stem.
Leaves: Large rounded basal leaves with untoothed bristly margins. Leaves are ovate rounded, 5-15 cm at flowering, but enlarging to 30 cm or more and turning bright red in autumn, carried on a short stalk. Margins are fringed with long bristle-like hairs.
Flowers: 1.5-2.5 cm long, with 5 petals and long styles. Sepal cup is hairless with blunt sepals.
Fruits or seeds:
Flowering season: March-July
Propagation: Rhizomes
Parts used: Roots, rhizomes, leaves
Phytochemical Constituents: Bergenin; Flavonoids; Gallic acid; Glucose; Sterols; Tannic acid; Tannins.
Pharmacological actions: Antibacterial; Antifungal; Anti-inflammatory; Antimalarial; Antioxidant; Antisorbutic; Antitussive; Antiurolithic; Astringent; Cytoprotective; Gastroprotective; Hepatoprotective, hepatocuritive; Laxative.
Medicinal uses: Cough; Diarrhoea; Dysentery; Earache; Emesis, vomiting; Fever; Hepatosis, hepatopathy, hepatitis; Splenomegaly; Ulcers; Urolithiasis.
Juice of the plant is used for earache. Roots useful in liver complaints.
Dosage and administration: Rhizomes: 3-6 gm in powder form; 20-30 gm for decoction.
References
Ayurvedic Pharmacopoeia Committee, 1999, "The Ayurvedic Pharmacopoeia of India, Part I, Volume I," New Delhi, India: Government of India, Ministry of Health and Family Welfare, Department of Ayurveda, Yoga & Naturopathy, Unani, Siddha and Homoeopathy (AYUSH).
Byahatti V.V., Pai K.V. and D'Souza M.G., 2010, "Effect of phenolic compounds from Bergenia ciliata (Haw.) Sternb. leaves on experimental kidney stones," Ancient science of life; 30(1): 14. [Web Reference]
Flowers of India, "Frilly Bergenia," Retrieved on September 25, 2017. [Web Reference]
ITIS, 2017, "Bergenia Moench," Integrated Taxonomic Information System on-line database, Retrieved on September 25, 2017. [Web Reference]
Kakub G. and Gulfraz M., 2007, "Cytoprotective effects of Bergenia ciliata Sternb, extract on gastric ulcer in rats," Phytotherapy research; 21(12): 1217-1220. [Web Reference]
Mazhar-ul-Islam A.I., et al., 2002, "Antifungal activity evaluation of Bergenia ciliate," Pak J Pharmacol; 19: 1-6. [Web Reference]
Rajkumar V., et al., 2010, "Evaluation of antioxidant activities of Bergenia ciliata rhizome," Records of Natural Products; 4(1): 38-48. [Web Reference]
Rani S., 2014, "INDIAN HERBAL MEDICINE AS HEPATOPROTECTIVE AND HEPATOCURATIVE: A REVIEW OF SCIENTIFIC EVIDENCE," LIFE SCIENCES LEAFLETS; 50: 61-115. [Web Reference]
Singh D.P., et al., 2007, "High-performance liquid chromatographic determination of bergenin in different Bergenia species," Acta Chromatographica; 19: 246. [Web Reference]
Sinha S., et al., 2001, "Antibacterial activity of Bergenia ciliata rhizome," Fitoterapia; 72(5): 550-552. [Web Reference]
Sinha S., et al., 2001, "Evaluation of anti‐inflammatory potential of Bergenia ciliata Sternb. rhizome extract in rats," Journal of pharmacy and pharmacology; 53(2): 193-196. [Web Reference]
Walter N.S., Bagai U. and Kalia S., 2013, "Antimalarial activity of Bergenia ciliata (Haw.) Sternb. against Plasmodium berghei," Parasitology research; 112(9): 3123-3128. [Web Reference]