Betula bhojpatra, Betula utilis
Shivani Kagra* & K.L. Dahiya**
______________________________________________________________
* Pursuing Bachelor of Ayurvedic Medicine and Surgeory; Lal Bahadur Shastri Mahila Ayurvedic College and Hospital, Bilaspur (Yamuna Nagar), Haryana, India
** Kurukshetra Global City, Kurukshetra, Haryana, India
______________________________________________________________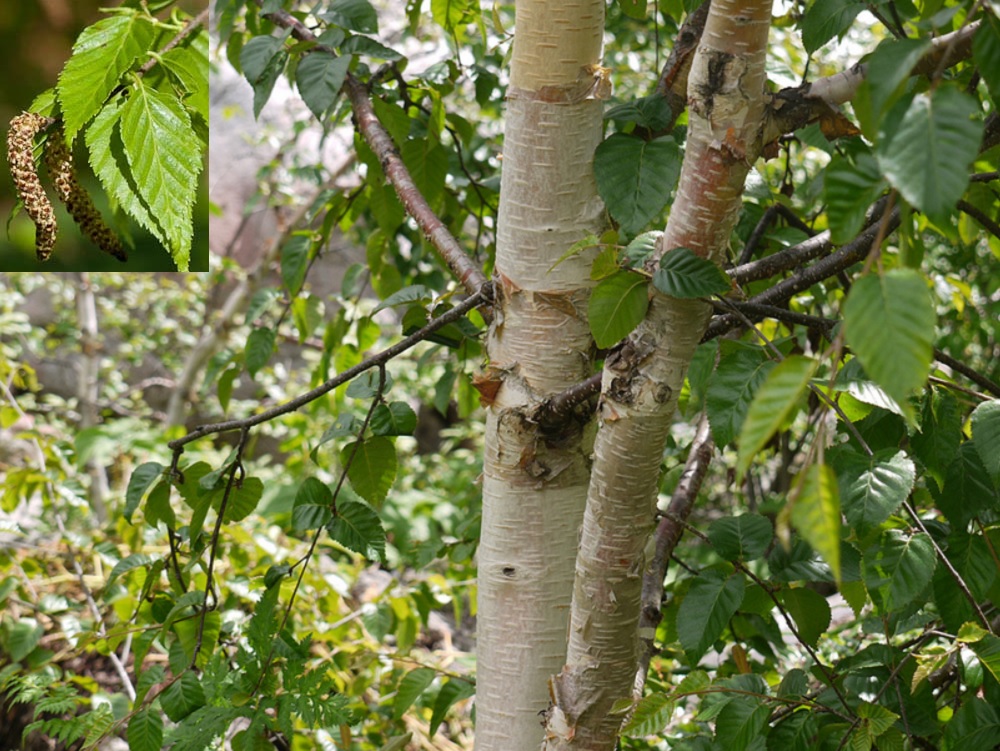 Vernacular name:
Bengali: Bhoojpatra, Bhujipatra
English: Bhoj Patra Tree, Himalayan Birch, Himalayan Silver Birch
Gujarati: Bhojpatra
Hindi: Bhoj patra
Kannada: Bhuyapathra
Malayalam: Bhujapatram, Bhurjjamaram, Bhurjamaram
Marathi: Bhoorjapatra
Nepali: Bhoj patra
Sanskrit: Bahulavalkala, Bahulavalkalah, Bahupata, Bhurjagranathi, Bhurja Patrah, Carmi, Lekhyapatrakah, Mrducchada
Tamil: Bhojapatram, Bhurjjamaram, Purchcham
Telugu: Bhujapatri
Taxonomic Hierarchy
Kingdom: Plantae – plantes, Planta, Vegetal, plants
Subkingdom: Viridiplantae
Infrakingdom: Streptophyta – land plants
Superdivision: Embryophyta
Division: Tracheophyta – vascular plants, tracheophytes
Subdivision: Spermatophytina – spermatophytes, seed plants, phanérogames
Class: Magnoliopsida
Superorder: Rosana
Order: Fagales
Family: Betulaceae – alder, birch
Genus: Betula L. – birch
Species: Betula bhojpattra - Bhoj Patra Tree, Himalayan Birch – (Syn. Betula utilis D.Don)
Phytogeography: Widely found in the Himalayas, well-known for the use of its bark for writing in ancient India. Kashmir (2300-4000 meter) - Sikkim (3000-4600 meter).
Description: A middle sized tree distinguished by its white to brownish bark, with very distinctive bark which peels off in very thin, almost transparent strips.
Leaves: 5-8 cm long, ovate, fine pointed, irregularly saw-toothed, finely hairy when young.
Flowers: Male flowers are born in catkins which hang in bunches at the end of bare branches, or with young leaves. Female flowers arise in solitary spikes.
Fruits: Fruits ripen in September-October. The thin, papery bark is very shiny, reddish brown, reddish white, or white, with horizontal lenticels.
Flowering season: April-May-June
Propagation: Seeds
Parts used: Bark
Phytochemical Constituents: 1,8-cineol; 3 b-aetoxy-12-oleanen-28-oic acid; Acetyloleanolic acid; Betulin; Betulinic acid; Champacol; Essential oils; Fatty acids; Geranic acid; Karachic acid; Linalool; Linoleic acid; Lupenone; Lupeol; Methyl betulate; Methyle betulonate; Myristic acid; Oleanolic acid; Oleic acid; Palmitic acid; Seleneol; Sesquiphellendrene; Sitosterol.
Pharmacological actions: Anti HIV; Antibacterial; Anticancer; Antifungal; Anti-inflammatory; Antimicrobial; Antioxidant; Antiseptic; Carminative; Contraceptive; Cytotoxic; Hepatoprotective, hepatocuritive; Wound healing.
Medicinal uses: Biliousness; Cancer; Convulsions; Fever; Hepatosis, hepatopathy, hepatitis; Jaundice; Leprosy; Wounds.
Dosage and administration: Stem bark: 1-3 gm
References
Ayurvedic Pharmacopoeia Committee, 2006, "The Ayurvedic Pharmacopoeia of India, Part I, Volume V," New Delhi, India: Government of India, Ministry of Health and Family Welfare, Department of Ayurveda, Yoga & Naturopathy, Unani, Siddha and Homoeopathy (AYUSH).
Flowers of India, "Bhoj Patra Tree," Retrieved on December 07, 2017. [Web Reference]
ITIS, 2017, "Betula L.," Integrated Taxonomic Information System on-line database, June 13, 2017. [Web Reference]
Joshi H., et al., 2013, "Phytochemical investigation, isolation and characterization of betulin from bark of Betula utilis," Journal of Pharmacognosy and Phytochemistry; 2(1): 145-151. [Web Reference]
Rani S., 2014, "INDIAN HERBAL MEDICINE AS HEPATOPROTECTIVE AND HEPATOCURATIVE: A REVIEW OF SCIENTIFIC EVIDENCE," LIFE SCIENCES LEAFLETS; 50: 61-115. [Web Reference]
Shaikh A.M., et al., 2016, "Medicinal Plants as Potential Source of Anticancer Agents: A Review," Journal of Pharmacognosy and Phytochemistry; 5(2): 291-295. [Web Reference]
Sharma P., et al., 2012, "Betula utilis A Potential Herbal Medicine," International Journal of Pharmaceutical & Biological Archive; 3(3): 3(3):493-498. [Web Reference]
Soares A.M., et al., 2005, "Medicinal plants with inhibitory properties against snake venoms," Current Medicinal Chemistry; 12(22): 2625-2641. [Web Reference]