Blepharis edulis, Blepharis persica
Shivani Kagra* & K.L. Dahiya**
______________________________________________________________
* Pursuing Bachelor of Ayurvedic Medicine and Surgeory; Lal Bahadur Shastri Mahila Ayurvedic College and Hospital, Bilaspur (Yamuna Nagar), Haryana, India
** Kurukshetra Global City, Kurukshetra, Haryana, India
______________________________________________________________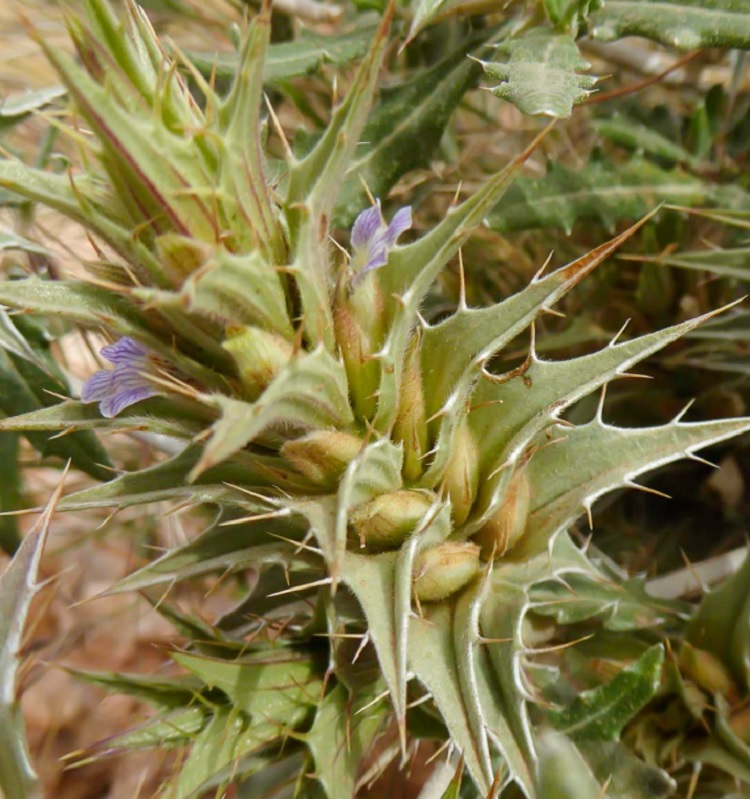 Vernacular name:
Bengali: Ucchata
Gujarati: Utingun, Chopunivel
Hindi: Utangan, Chaupatia, Shikhi
Kannada: Utangana
Malayalam: Utigana, Utungana
Marathi: Utangan
Oriya: Utingana
Punjabi: Uttangan
Sanskrit: Uttingana
Tamil: Uttanjana
Telugu: Uttangan
Urdu: Utangan
Taxonomic Hierarchy
Kingdom: Plantae – plantes, Planta, Vegetal, plants
Subkingdom: Viridiplantae
Infrakingdom: Streptophyta – land plants
Superdivision: Embryophyta
Division: Tracheophyta – vascular plants, tracheophytes
Subdivision: Spermatophytina – spermatophytes, seed plants, phanérogames
Class: Magnoliopsida
Superorder: Asteranae
Order: Lamiales
Family: Acanthaceae – acanthacées
Genus: Blepharis
Species: Blepharis edulis Pers. (Syn. Blepharis persica (Burm. f.) O. Kuntze.)
Phytogeography: India. Found in Punjab, Western Rajasthan and Malwa region of MP.
Description: Small gray pubescent or nearly glabrate perennial herb. Stem is short and approximately 30 cm length. Nature of stem is rigid.
Leaves: Appear in-group of fours at the nodes. Shape of leaf is upper pair 5cm x 1 cm and lower pair smaller with oblong or narrow elliptic.
Flowers: The flower appears in blue colour in storability inflorescence.
Fruits or seeds: The fruit capsules are 5 cm long and two seeded.
Propagation: Seeds
Parts used: Seeds, leaves, roots, aerial parts
Phytochemical Constituents: 4'-O-diglycoside; Benzoxazine glucoside; Benzoxazolone; Blepharin; Catechol; DL alantoin; Flavone glucosides; Flavonoid compounds; Fructose; Galactose; Glycosides; Isovebascosides; Phenolic acids; Phenolic compounds; p-hydroxybenzoic acid; Saponin; Tannins; Vebascoside.
Pharmacological actions: Antioxidant; Antiseptic; Purgative; Anti-inflammatory; Antimicrobial; Aphrodisiac; Expectorant; Deobstruent; Diuretic; Purgative; Tonic.
Medicinal uses: Aphthae; Asthma; Conjunctivitis; Contraceptive; Dysmenorrhoea; Earache; Haemoptysis; Hepatopathy; Splenopathy; Strangury; Throat inflammation; Toothache; Ulcers; Wounds.
Other uses: The leaves and seeds are reported to be eaten. The herb forms a good fodder for sheep and camels. In general, the entire plant had utility as animal fodder due to increase in milk production in cattle
Dosage and administration: Seeds: 3-6 gm in powder form.
References
Ayurvedic Pharmacopoeia Committee, 2004, "The Ayurvedic Pharmacopoeia of India, Part I, Volume IV," New Delhi, India: Government of India, Ministry of Health and Family Welfare, Department of Ayurveda, Yoga & Naturopathy, Unani, Siddha and Homoeopathy (AYUSH).
ITIS, 2017, "Acanthaceae," Integrated Taxonomic Information System on-line database, Retrieved on July 28, 2017. [Web Reference]
Mahboubi M., et al., 2013, "Total phenolic content, antioxidant and antimicrobial activities of Blepharis edulis extracts," Songklanakarin Journal of Science & Technology; 35(1): 11-13. [Web Reference]
Pande M. and Pathak A., 2009, "Investigation of aphrodisiac potential of Blepharis edulis Linn.(Utangan) claimed by tribals of Malwa region of Madhya Pradesh," Int J ChemTech Res; 1(3): 769-776. [Web Reference]
Surveswaran S., et al., 2007, "Systematic evaluation of natural phenolic antioxidants from 133 Indian medicinal plants," Food Chemistry; 102(3): 938-953. [Web Reference]