Boerhavia coccinea, Boerhavia diffusa, Boerhavia repens
Shivani Kagra* & K.L. Dahiya**
______________________________________________________________
* Pursuing Bachelor of Ayurvedic Medicine and Surgeory; Lal Bahadur Shastri Mahila Ayurvedic College and Hospital, Bilaspur (Yamuna Nagar), Haryana, India
** Kurukshetra Global City, Kurukshetra, Haryana, India
______________________________________________________________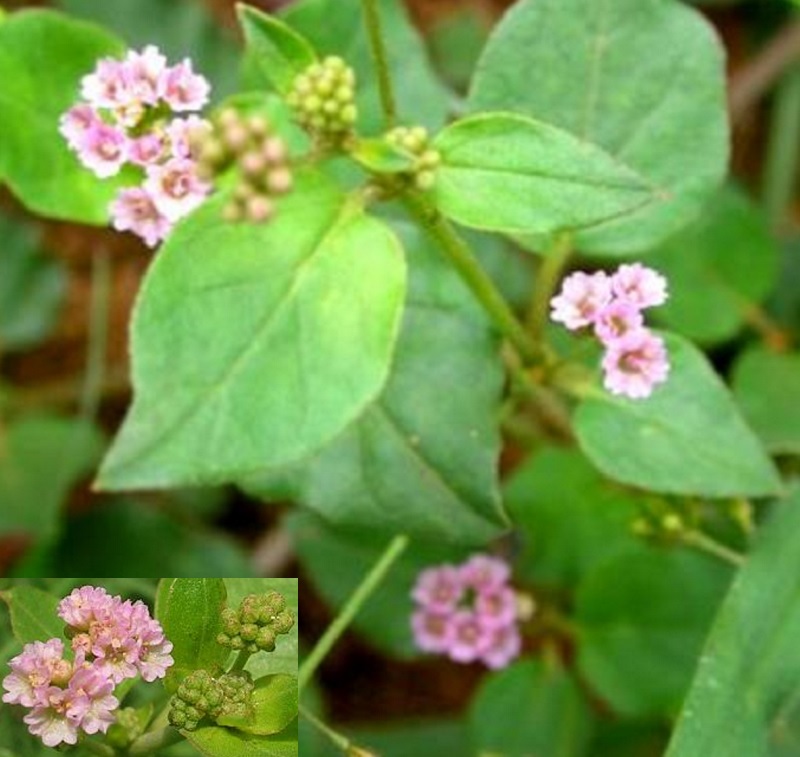 Vernacular name:
Assamese: Ranga Punarnabha
Bengali: Rakta punarnava
English: Horse Purslene, Hog Weed, Red hogweed, Tar Vine, Red Spiderling, Wine flower
Gujarati: Dholisaturdi, Motostodo, Saturdi
Hindi: Gadapurna, Lalpunarnava, Lalpunarnava, Punarnava, Satha
Kannada: Adakaputtana gida, Sanadika, Snadika, Kommeberu, Komma
Kashmiri: Vanjula punarnava
Malayalam: Chuvanna Tazhutama, Tavilama, Tlutama
Marathi: Ghetuli, Khaparkhuti, Punarnava, Rakta Punarnava, Satodimula, Vasuchi muli
Oriya: Lalapuiruni, Nalipuruni, , Malipuruni
Punjabi: Iteit (Lal), Khattan
Sanskrit: Kathilla, Rakta Puspa, Sophaghni, Sothaghni, Varsabhu
Tamil: Mookarattai (Shihappu), Mukurattai (Shihappu)
Telugu: Atikamamidi, Erra galijeru
Urdu: Surkh Punarnava
Taxonomic classification
Kingdom: Plantae - plantes, Planta, Vegetal, plants
Subkingdom: Viridiplantae
Infrakingdom: Streptophyta - land plants
Superdivision: Embryophyta
Division: Tracheophyta - vascular plants, tracheophytes
Subdivision: Spermatophytina - spermatophytes, seed plants, phanérogames
Class: Magnoliopsida
Superorder: Caryophyllanae
Order: Caryophyllales
Family: Nyctaginaceae - four o'clocks, nyctaginacées; (Bougainvillea family)
Genus: Boerhavia L. – spiderling
Species: Boerhavia diffusa L. – Red hogweed, Tar Vine, Red Spiderling, Wineflower – (Syn. Boerhavia coccinea, Boerhavia repens)
Phytogeography: Found throughout India. Also, found in Bangladesh, Nigeria. Throughout India, ascending the hot Himalayan valleys up to 2300 meter.
Description: A prostrate herbal weed with very diffuse inflorescences.
Roots: Well developed, fairly long, somewhat tortuous, cylindrical, 0.2 - 1.5 cm in dia.; yellowish-brown to brown; surface, rough due to minute longitudinal striations and root scars; fracture, short; odour, not distinct; taste, slightly bitter.
Flowers: Inflorescences occur at the end of branches, are forked about 3-6 times, occasionally with sticky internodal bands.Branches are divergent, terminating in compact subumbellate or capitate, 2-5 flowered clusters. Flowers have stalk shorter than 0.5 mm. Bract at base of the flower tube quickly deciduous, lancelike, 0.8-1 mm. Flowers are purplish red to reddish pink or nearly white, bell-shaped beyond the constriction, 1-1.5 mm. Stamens 2-3, are inside the flower or barely protruding out.
Parts used: Leaves, roots, shoots, aerial parts, whole plant
Phytochemical Constituents: b-Sitosterol; 3,3´5-trihydroxy-7-methoxyflavone; 3,4-dimethoxy phenyl-1-O-b-Dapiofuranosyl-(1´´à3´)-O-b-D-glucopyranoside; 4´,7-dihydroxy-3´-methylflavone; Alkaloids; Boeravinone C; Eupalitin; Eupalitin-3-O-b-D-galactopyranoside; Eupalitin-3-O-b-D-galactopyranosyl-(1´´´à2´´)-O-b-D-galactopyranoside; Hentriacontane; Hypoxanthine-9-L-arabinofuranoside; Liriodendrin; Punarnavoside; Ursolic acid.
Pharmacological actions: Analgesic; Anticonvulsant; Antidiabetic; Antihyperglycemic; Anti-inflammatory; Antioxidant; Blood purifier; Hepatoprotective, hepatocuritive; Hypoglycemic; Renal protective.
Medicinal uses: Abdominal pain; Anaemeia; Arthritis; Bacterial infections; Congestive heart failure; Convulsions; Diabetes mellitus; Dyspepsia; Hepatosis, hepatopathy, hepatitis; Inflammation; Jaundice; Oedema; Splenomegaly; Stress; Tissue wasting.
Popular in Ayurveda, this herb is known for its anti-inflammatory and analgesic properties. The roots of Boerhavia diffusa, commonly known as 'Punarnava', are used by a large number of tribes in India for the treatment of various hepatic disorders and for internal inflammation. Anodectal data has also reported effectiveness of Boerhavia diffusa in cases of oedema and ascites resulting from early cirrhosis of the liver and chronic peritonitis.
Fresh leaf juice mixed with milk taken internally in mild cases of jaundice and for controlling cirrhosis of liver.
Other uses: Tender young leaves and shoots are cooked and used as a vegetable.
Dosage and administration: Juice obtained from macerated leaves is taken. Paste of shoots (20-25g) given twice daily before meals for a week in jaundice associated with loss of appetite. Powder: 3-6 gm. Whole plant: 20-30 gm for decoction. Roots: 1-3 gm of powder; 10-20 ml (Fresh Juice).
References
Akter S., et al., 2012, "A selection of medicinal plants used as blood purifiers by folk medicinal practitioners of Bangladesh," American-Eurasian Journal of Sustainable Agriculture; 6(3):188-194. [Web Reference]
Flowers of India, "Red Spiderling," Retrieved on June 17, 2017. [Web Reference]
Ayurvedic Pharmacopoeia Committee, 1999, "The Ayurvedic Pharmacopoeia of India, Part I, Volume I," New Delhi, India: Government of India, Ministry of Health and Family Welfare, Department of Ayurveda, Yoga & Naturopathy, Unani, Siddha and Homoeopathy (AYUSH).
Ayurvedic Pharmacopoeia Committee, 2001, "The Ayurvedic Pharmacopoeia of India, Part I, Volume III," New Delhi, India: Government of India, Ministry of Health and Family Welfare, Department of Ayurveda, Yoga & Naturopathy, Unani, Siddha and Homoeopathy (AYUSH).
Gautam G.K., 2012, "Phytochemical investigation and pharmacological screening of selected medicinal plants from indian origin," Suresh Gyan Vihar University, Mahal, Jagatpura, Jaipur, India 302025. [Web Reference]
ITIS, 2017, "Boerhavia diffusa L.," Integrated Taxonomic Information System on-line database, March 1, 2017. [Web Reference]
Malviya N., Jain S. and Malviya S.A.P.N.A., 2010, "Antidiabetic potential of medicinal plants," Acta Pol Pharm; 67(2): 113-118. [Web Reference]
Ministry of Ayush and Govt. of India, 2016, "The Ayurvedic Pharmacopoeia of India Part I Volume IX," PHARMACOPOEIA COMMISSION FOR INDIAN MEDICINE & HOMOEOPATHY, GHAZIABAD; P. 9-15.
Prakash U.N.K., et al., 2014, "Antioxidant activity of common plants of Northern Tamil Nadu, India," International Journal of Pharmacy and Pharmaceutical Science; 6(4): 128-132. [Web Reference]
Quintans L.J., et al., 2008, "Plants with anticonvulsant properties: a review," Revista Brasileira de Farmacognosia; 18: 798-819. [Web Reference]
Rani S., 2014, "INDIAN HERBAL MEDICINE AS HEPATOPROTECTIVE AND HEPATOCURATIVE: A REVIEW OF SCIENTIFIC EVIDENCE," LIFE SCIENCES LEAFLETS; 50: 61-115. [Web Reference]
Subramoniam A., Madhavachandran V. and Gangaprasad A., 2013, "Medicinal plants in the treatment of arthritis," Ann Phytomedicine; 2: 3-36. [Web Reference]
Surveswaran S., et al., 2007, "Systematic evaluation of natural phenolic antioxidants from 133 Indian medicinal plants," Food Chemistry; 102(3): 938-953. [Web Reference]