Bombax ceiba, Bombax malabaricum, Salmalia malabarica, Gossampinus malabarica
Shivani Kagra* & K.L. Dahiya**
______________________________________________________________
* Pursuing Bachelor of Ayurvedic Medicine and Surgeory; Lal Bahadur Shastri Mahila Ayurvedic College and Hospital, Bilaspur (Yamuna Nagar), Haryana, India
** Kurukshetra Global City, Kurukshetra, Haryana, India
______________________________________________________________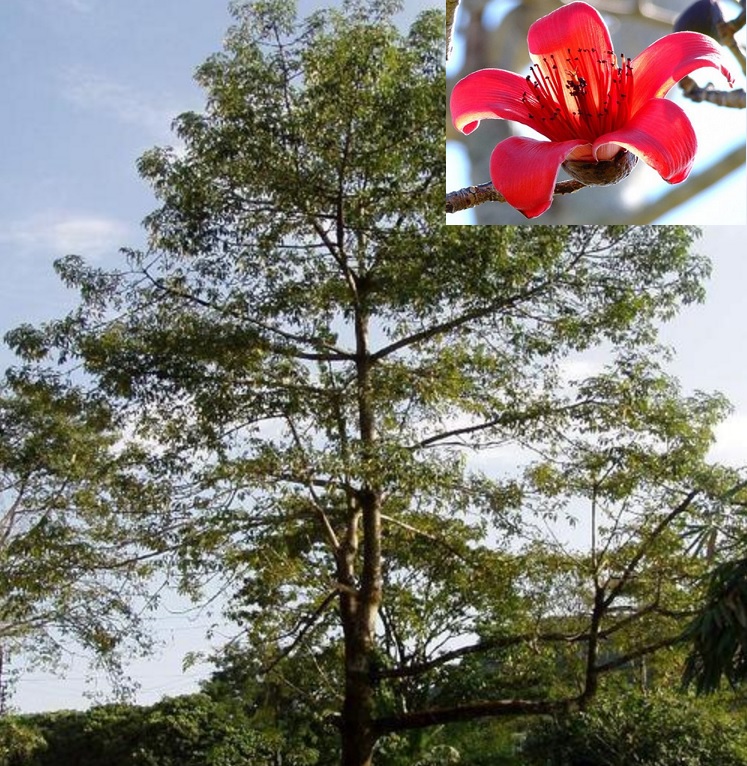 Vernacular name:
Assamese: Dumboil, Semul
Bengali: Shimul, Simul
English: Silk Cotton Tree, Kapok Tree, Red Silk Cotton Tree
Gujarati: Shemalo
Hindi: Semal, Semar, Shalmali
Kannada: Kempuburunga
Malayalam: Mullilavu, Unnamurika
Manipuri: Tera
Marathi: Sanvar, Katesavar
Punjabi: Simble
Sanskrit: Moca, Picchila, Raktapuspa, Kantakadhya, Tulini
Tamil: Elavam, Sanmali, Sittan
Telugu: Buruga, Sembhal
Taxonomic Hierarchy
Kingdom: Plantae - plantes, Planta, Vegetal, plants
Subkingdom: Viridiplantae
Infrakingdom: Streptophyta - land plants
Superdivision: Embryophyta
Division: Tracheophyta - vascular plants, tracheophytes
Subdivision: Spermatophytina - spermatophytes, seed plants, phanérogames
Class: Magnoliopsida
Superorder: Rosanae
Order: Malvales
Family: Malvaceae - mallows, mauves
Genus: Bombax L. – cottontree
Species: Bombax ceiba L. – Silk Cotton Tree, Kapok Tree, Red Silk Cotton Tree (Syn. Bombax malabaricum DC., Salmalia malabarica (DC.) Schott &Endl., Gossampinus malabarica DC. Merr.)
Phytogeography: Native to India, tropical southern Asia, northern Australia and tropical Africa.
Description: Silk cotton trees comprise eight species in the genus Bombax. It is a type of native cotton tree with large red flowers. The genus name Salmalia is derived from the sanskrit name shaalmali.
Semul trees bear beautiful red-coloured flowers during January to March. The phenomenon paints the whole landscape in an enchanting red hue. The fruit, the size of a ping-pong ball, on maturity appears during March and April. These are full of cotton-like fibrous stuff. It is for the fiber that villagers gather the semul fruit and extract the cotton substance called "kopak". This substance is used for filling economically priced pillows, quilts, sofas etc. The fruit is cooked and eaten and also pickled. Semul is quite a fast growing tree and can attain a girth of 2-3 meter, and height about 30 meter, in nearly 50 years or so. Its wood, when sawn fresh, is white in colour. However, with exposure and passage of time it grows darkish gray. It is as light as 10-12 kg, per cubic foot. It is easy to work but not durable anywhere other than under water.
It is a large deciduous tree with tall trunk and spreading crown. Trunk and branches, particularly of young trees covered with large woody conical prickles.
Leaves: Large, leaflets 3-7, palmately arranged, 15-30 cm long; petiole longer than the leaflets.
Flowers: Large, yellow to bright red, numerous, fascicled at the end of the branches, appearing before the new leaves.
Fruits: 15-17.5 cm, oblong-obtuse, 5-valved, lined within with white silky hairs.
Flowering season: January-March
Propagation: Seeds
Parts used: Bark, flowers, gum, roots, stem bark
Phytochemical Constituents: b-D-glucoside; b-sitosterol; 2-b-D-glucopyranosyl-1,3,6,7-tetrahydroxy-9H-xanthen-9-one; Benzopyran dimer; Essential oil; Flavonol glycoside; Flavonols; Hentriacontane; Hentriacontanol; Kaempferol; Lupeol; Naphthoquinone; Phenolic acids; Quercetin; Saponins; Sesquiterpene lactone; Shamimin; Tannins; Xanthone (mangiferin).
Pharmacological actions: Alterative; Analgesic; Anthelmintic; Antiangiogenic; Anti-diabetic; Antidiarrhoeal; Antidysenteric; Antifilarial; Antioxidant; Anti-paralytic; Antipyretic; Aphrodisiac; Astringent; Cardioprotective, Cardiotonic; Demulcent; Diuretic; Emetic; Haemostatic, antihaemolytic; Hepatoprotective, hepatocuritive; Hypoglycaemic; Hypotensive; Laxative; Restorative; Stimulant; Tonic.
Medicinal uses: Catarrh; Diabetes mellitus; Diarrhoea; Elephantiasis; Fever; Hepatosis, hepatopathy, hepatitis; Inflammation; Paralysis; Skin eruptions; Ulceration bladder, kidney.
Bark is molded and fried in Dissenia pertagyna oil, and then massaged on affected part to cure paralysis by Rawat and Sahariya tribes of Jhansi district, Uttar Pradesh, India.
Other uses: It is popular for construction work, but is very good and prized for manufacture of plywood, match boxes and sticks, scabbards, patterns, moulds, etc. Also for making canoes and light duty boats and or other structures required under water. Bombax species are used as food plants by the larvae of some Lepidoptera species including the leaf-miner Bucculatrix crateracma which feeds exclusively on Bombax ceiba.
Dosage and administration: Stem bark: 5-10 gm in powder form.
Adverse reactions: At higher doses, it has adverse effects on heart, liver and kidneys.
References:
Ayurvedic Pharmacopoeia Committee, 2001, "The Ayurvedic Pharmacopoeia of India, Part I, Volume III," New Delhi, India: Government of India, Ministry of Health and Family Welfare, Department of Ayurveda, Yoga & Naturopathy, Unani, Siddha and Homoeopathy (AYUSH).
Bhavsar C. and Talele G.S., 2013, "Potential anti-diabetic activity of Bombax ceiba," Bangladesh Journal of Pharmacology; 8(2): 102-106. [Web Reference]
Dar A., et al., 2005, "Analgesic and antioxidant activity of mangiferin and its derivatives: the structure activity relationship," Biological and Pharmaceutical Bulletin; 28(4): 596-600. [Web Reference]
Divya N., Nagamani J.E. and Prabhu S., 2012, "Antioxidant and antihemolytic activities of Bombax ceiba pentandra spike and fruit extracts," Int. J. Pharm. Pharm. Sci; 4(Suppl 5): 311-315. [Web Reference]
Flowers of India, "Silk Cotton Tree," Retrieved on July 19, 2017. [Web Reference]
ITIS, 2017, "Bombax ceiba L.,"Integrated Taxonomic Information System on-line database, March 1, 2017. [Web Reference]
Mikawlrawng K., et al., 2017, "Anti-paralytic medicinal plants–Review," Journal of Traditional and Complementary Medicine;. [Web Reference]
Patel S.S., et al., 2011, "Cardioprotective effect of Bombax ceiba flowers against acute adriamycin-induced myocardial infarction in rats," Revista Brasileira de Farmacognosia; 21(4): 704-709. [Web Reference]
Rahman S., et al., 2013, "Traditional phytotherapy of folk and tribal medicinal practitioners in Bangladesh for treatment of elephantiasis," American-Eurasian Journal of Sustainable Agriculture 7(3): 143-148. [Web Reference]
Rameshwar V., et al., 2014, "A Pharmacognostic and pharmacological overview on Bombax ceiba," Scholars Academic Journal of Pharmacy; 3(2): 100-107. [Web Reference]
Rani S., 2014, "INDIAN HERBAL MEDICINE AS HEPATOPROTECTIVE AND HEPATOCURATIVE: A REVIEW OF SCIENTIFIC EVIDENCE," LIFE SCIENCES LEAFLETS; 50: 61-115. [Web Reference]
Saleem R., et al., 1999, "Hypotensive, hypoglycaemic and toxicological studies on the flavonol C-glycoside shamimin from Bombax ceiba," Planta medica; 65(4): 331-334. [Web Reference]
Saleem R., et al., 2003, "Hypotensive activity and toxicology of constituents from Bombax ceiba stem bark," Biological and Pharmaceutical Bulletin; 26(1): 41-46. [Web Reference]
Surveswaran S., et al., 2007, "Systematic evaluation of natural phenolic antioxidants from 133 Indian medicinal plants," Food Chemistry; 102(3): 938-953. [Web Reference]
Vieira T.O., et al., 2009, "Antioxidant activity of methanolic extract of Bombax ceiba," Redox Report; 14(1): 41-46. [Web Reference]
You Y.‐J., et al., 2003, "Antiangiogenic activity of lupeol from Bombax ceiba," Phytotherapy research; 17(4): 341-344. [Web Reference]