Caesalpinia bonduc, Caesalpinia bonducella, Caesalpinia crista, Guilandina bonduc
Shivani Kagra* & K.L. Dahiya**
______________________________________________________________
* Pursuing Bachelor of Ayurvedic Medicine and Surgeory; Lal Bhadur Shastri Mahila Ayurvedic College and Hospital, Bilaspur (Yamuna Nagar), Haryana, India
** Kurukshetra Global City, Kurukshetra, Haryana, India
______________________________________________________________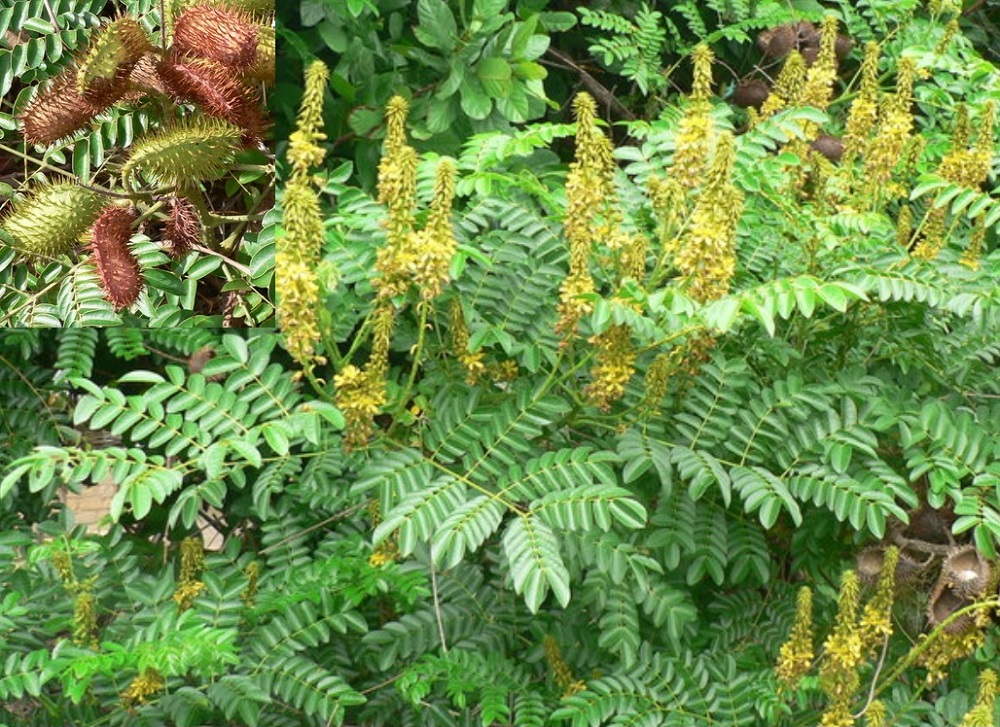 Vernacular name:
Bengali: Kaantaa Karanjaa, Naataa, Naataa Karanjaa
English: Bonduc Nut, Fever Nut, Gray nicker, Nicker seed, Nicker bean, Yellow Nicker
Gujarati: Kaanchakaa, Kaanka
Hindi: Kantkarej, Kantikaranja, Karanja, Karanjuaa, Kaantaa Karanj, Kuberakshi
Kannada: Gajjike Kaayi, Gajkai
Malayalam: Kalamchikuru, Kaalanchi, Kalanchi, Kazhinch - Kai
Marathi: Saagar gotaa, Gajarghotaa, Gaajagaa, Sagarlata
Oriya: Kotokolejaa
Sanskrit: Latakaranjah, Kuberakshi, Kantaki karanjah, Kuberaksa
Tamil: Kajha shikke, Kalichchikkaai
Telugu: Gachchakaay, Gachchakaya
Urdu: Akitmakit
Taxonomic Hierarchy
Kingdom: Plantae – plantes, Planta, Vegetal, plants
Subkingdom: Viridiplantae
Infrakingdom: Streptophyta – land plants
Superdivision: Embryophyta
Division: Tracheophyta – vascular plants, tracheophytes
Subdivision: Spermatophytina – spermatophytes, seed plants, phanérogames
Class: Magnoliopsida
Superorder: Rosanae
Order: Fabales
Family: Fabaceae – peas, legumes
Genus: Guilandina L.
Species: Guilandina bonduc L. - Yellow Nicker, Gray nicker, nicker seed, bonduc nut, Fever nut, nicker bean - (Syn. Caesalpinia bonduc, Caesalpinia bonducella, Caesalpinia crista)
Phytogeography: India, Nigeria. Hotter parts of India particularly along the sea coasts and upto 830 meter, West Bengal and South India.
Description: A large, thorny, straggling, shrub which behaves like a strong woody climber, taking support of trees. The branches are armed with hooks and straight hard yellow prickles.
Leaves: Large, double compound, with 7 pairs of pinnae, and each with 3-8 pairs of leaflets with 1-2 small recurved prickles between them on the underside.
Flowers: Yellow, in dense long-stalked racemes at the top.
Fruits: Inflated pods, covered with wiry prickles. Seeds are 1-2 per pod, oblong or globular, hard, grey with a smooth shiny surface.
Seeds: The hard and shiny seeds are green, turning grey.
Propagation: Seeds
Parts used: Seeds, roots, leaves, bark
Phytochemical Constituents: a-caesalpin; b-caesalpin; Aminoacids; Arginine; Aspartic acid; Bonducin; Caesalmin X; Caesalmin Y; Caesalmin Z; Cassane diterpenoids; Fixed oil; Phenolics; Phytosterenin; Phytosterol; Saponin; Starch; Sucrose; γ-caesalpin; δ-caesalpin; ζ-caesalpin.
Pharmacological actions: Antibacterial; Antimycobacterial; Antimicrobial; Anti snake venom; Anticonvulsant; Antifeedant; Anti-ophidian; Antioxidant; Anti-psoriasis; Antipyretic; Antitussive; Arthritis; Cosmetic; Febrifuge; Hepatoprotective, hepatocuritive; Larvicidal; Pupicidal; Tonic; Uterotonic.
Medicinal uses: Agricultural pests; Amenorrhoea; Arthritis; Convulsion; Cough; Diabetes mellitus; Dysmenorrhea; Dyspepsia; Fever; Helminthiasis, worm infestation; Hepatosis, hepatopathy, hepatitis; Jaundice; Malaria; Otorrhoea; Psoriasis; Snake bite.
Fruits are tonic and antipyretic. Seeds yield fatty oil used as a cosmetic and for discharges from the ear. Leaves and bark are febrifuge.
Other uses: They are used for jewelry.
Dosage and administration: Seeds: 1-3 gm.
References:
Ayurvedic Pharmacopoeia Committee, 2006, "The Ayurvedic Pharmacopoeia of India, Part I, Volume V," New Delhi, India: Government of India, Ministry of Health and Family Welfare, Department of Ayurveda, Yoga & Naturopathy, Unani, Siddha and Homoeopathy (AYUSH).
Bonesi M., et al., 2016, "Anti-Psoriasis Agents from Natural Plant Sources," Current medicinal chemistry; 23(12): 1250-1267. [Web Reference]
Gairola S., et al., 2010, "Herbal antitussives and expectorants - a review," International Journal of Pharmaceutical Sciences Review and Research; 5(2): 5-9. [Web Reference]
ITIS, 2017, "Guilandina bonduc L.," Integrated Taxonomic Information System on-line database, June 13, 2017. [Web Reference]
Liu Q., et al., 2017, "Three new cassane diterpenes from the seeds of Caesalpinia minax Hance," Natural product research; (2017): 1-7. [Web Reference]
Makhija I.K. and Khamar D., 2010, "Anti-snake venom properties of medicinal plants," Der Pharmacia Lettre; 2(5): 399-411. [Web Reference]
Mlozi S.H., Chacha M. and Peter R., 2017, "Antimycobaterial and antibacterial activities of extracts from Caesalpinia bonduc (L.) Roxb.," American Journal of Research Communication; 5(2): 27-36. [Web Reference]
Packiam M., 2017, "Toxicity and antifeedant activity of Caesalpinia bonduc (L.) Roxb.(Caesalpiniaceae) extracts and fractions against the cotton bollworm Helicoverpa armigera Hub.(Lepidoptera: Noctuidae)," Physiological and molecular plant pathology; [Web Reference]
Quintans L.J., et al., 2008, "Plants with anticonvulsant properties: a review," Revista Brasileira de Farmacognosia; 18: 798-819. [Web Reference]
Rani S., 2014, "INDIAN HERBAL MEDICINE AS HEPATOPROTECTIVE AND HEPATOCURATIVE: A REVIEW OF SCIENTIFIC EVIDENCE," LIFE SCIENCES LEAFLETS; 50: 61-115. [Web Reference]
Roqaiya M., et al., 2015, "A Review on Herbs with Uterotonic Property," The Journal of Phytopharmacology; 4(3): 190-196. [Web Reference]
Soares A.M., et al., 2005, "Medicinal plants with inhibitory properties against snake venoms," Current Medicinal Chemistry; 12(22): 2625-2641. [Web Reference]
Subramoniam A., Madhavachandran V. and Gangaprasad A., 2013, "Medicinal plants in the treatment of arthritis," Ann Phytomedicine; 2: 3-36. [Web Reference]
Surveswaran S., et al., 2007, "Systematic evaluation of natural phenolic antioxidants from 133 Indian medicinal plants," Food Chemistry; 102(3): 938-953. [Web Reference]