Caesalpinia crista, Caesalpinia nuga, Guilandina nuga
Shivani Kagra* & K.L. Dahiya**
______________________________________________________________
* Pursuing Bachelor of Ayurvedic Medicine and Surgeory; Lal Bhadur Shastri Mahila Ayurvedic College and Hospital, Bilaspur (Yamuna Nagar), Haryana, India
** Kurukshetra Global City, Kurukshetra, Haryana, India
______________________________________________________________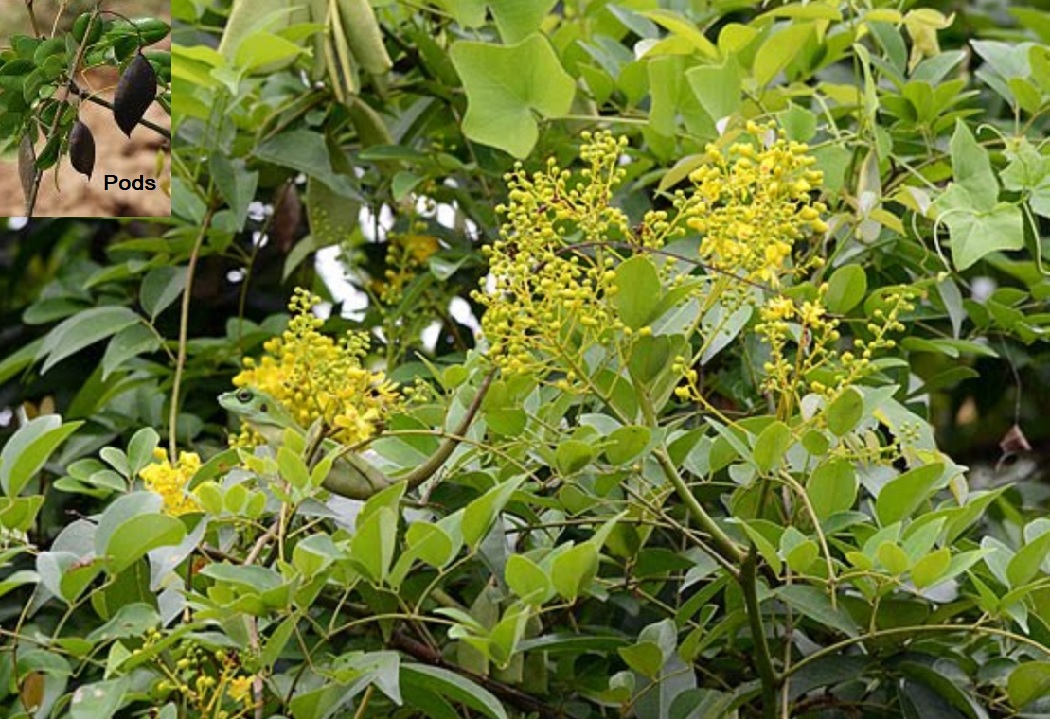 Vernacular name:
Bengali: Natakaranja
English: Crested Fever Nut, Indian elm
Gujarati: Charela, Kachka, Kanajho
Hindi: Banchillaa, Chilbil, Kanju, Latakaranja, Paapari
Kannada: Kiri-gejjuga, Tapasigida
Konkani: Vakeri
Malayalam: Avil, Kazhanchi, Nettavil
Marathi: Baavalaa, Kanchaki
Oriya: Gilo, Nentei
Punjabi: Chirbil
Sanskrit: Cirabilvah, Kantaki karanja, Kuberakshi, Lata karanja, Putikah, Prakiryah, Vitapa karanja
Tamil: Avali, Aapa, Mut-konrai
Telugu: Mullutige, Nemalinara, Tapasi
Taxonomic Hierarchy
Kingdom: Plantae - plantes, Planta, Vegetal, plants
Subkingdom: Viridiplantae
Infrakingdom: Streptophyta - land plants
Superdivision: Embryophyta
Division: Tracheophyta - vascular plants, tracheophytes
Subdivision: Spermatophytina - spermatophytes, seed plants, phanérogames
Class: Magnoliopsida
Superorder: Rosanae
Order: Fabales
Family: Fabaceae - peas, legumes
Genus: Caesalpinia L. – nicker, caesalpinia, Poinciana
Species: Caesalpinia crista L. – Gray nicker, Crested Fever Nut, Indian elm - (Syn. Caesalpinia nuga, Guilandina nuga)
Phytogeography: Throughout the plains of India and upto an altitude of 1000 meter in the Himalayas; it is also found in the deltaic regions of western, eastern and southern India.
Description: A Large climber with numerous recurved prickles.
Leaves: Large, leafy, branched, basal appendages; 30-60 cm. long; petioles prickly; stipules a pair of reduced pinnae at the base of the leaf each furnished with a long mucronate point; pinnae 6-8 pairs, 5-7.5 cm. long, with a pair of hook stipulary spines at the base. main leaf axis armed with stout, sharp, recurved spines, divided into 4-8 pairs of secondary branches.Leaflets 6-9 pairs, 2-3.8 by 1.3-2.2 cm., membranous, elliptic-oblong, obtuse, strongly mucronate, glabrous above, more or less puberulous beneath; petioloules very short; stipels of short hooked spines.
Flowers: In dense (usually) long-peduncled terminal and supraaxillary racemes dense at the top, lax downward, 15-25 cm. long; pedicels very short in bud, elongating to 5 mm. in flower and 8 mm. in fruits, brown-downy; bracts squarrose, linear, acute, reaching 1 cm. long, fulvous hair. Calyx 6-8 mm. long, fulvous hairy; lobes obovate-oblong, obtuse. Petals oblanceolate, yellow.Flowering starts in mid August and continues till the second week of April. Maximum flowering takes place between last week of August to September, while it is moderate between January to mid April. During the period between last week of April to first week of August the plant is without flowers.
Fruits: Ellipsoid, flat, beaked; seed solitary, ovoid and black.
Seeds: Hot and dry, globose or rounded. Seed coat is hard, glossy, and greenish to ash grey in colour. It is traversed by circular and vertical faint markings of the cracks, forming uniform rectangular to squarish rectulations all over the surface. Seeds 1-2, oblong, lead-colored, 1.3 cm. long. A raised hilum with remains of the stalk lies in the centre of the dark spot, at the narrow edge of the seed. The seed is exalbuminous. The kernel surface is furrowed and ridged, hard, pale yellowish - white, circular to oval, flattened and about 1.23-1.75 cm in diameter. A scar of the micropyle lies at one end of the kernel, from where arises a prominent ridge demarking the two cotyledons of the embryo. Plumule radical axis is thick, cylindrical and straight. Taste is very bitter and odour is nauseating and unpleasant.100 seeds weigh from 225-250 gm.
Propagation: Seeds
Parts used: Stem bark, rootbark, seeds, kernels
Phytochemical Constituents: 1a-acetoxy-5a, 7b-dihydroxycassa-11,13(15)-diene-16,12-lactone; 2',4',4-trihydroxychalcone; 2',4-dihydroxy-4'-methoxychalcone; 2,6-dimethoxybenzoquinone; 6- methoxypulcherrimin; 8-methoxybonducellin; Alkaloids; Bonducellin; Caffeic acid; Chlorogenic acid; Ferulic acid; Flavonoids; Gallic acid; Gentisic acid; Homoisoflavonoid; p-coumaric acid; Peltogynoids; Protocatechuic acid; Pulcherrimin; Saponins.
Pharmacological actions: Anthelmintic; Antiameobic; Antianaphylactic; Antibacterial; Anticancer; Anti-diabetic; Antidiarrhoeal; Antidiuretic; Antifilarial; Anti-inflammatory; Antimalarial; Antioxidant; Antipyretic; Antitumour; Anti-ulcer; Antiviral; Cytotoxic; Hepatoprotective, hepatocuritive; Uterotonic.
Medicinal uses: Burning sensation in urinary tract; Colic; Elephantiasis; Hepatosis, hepatopathy, hepatitis; Ulcers; Urinary tract infections.
Dosage and administration: Stem bark: 50-100 ml in the form of decoction.
References:
Anchal A., Agrawal A. and Shinde N., 2014, "ANTICANCER STUDY ON ALCOHOLIC EXTRACT OF CAESALPINIA CRISTA ROOT BARK EXTRACT," JOURNAL OF PHARMACEUTICAL RESEARCH & OPINION; 1(4): 126-128. [Web Reference]
Ayurvedic Pharmacopoeia Committee, 2006, "The Ayurvedic Pharmacopoeia of India, Part I, Volume V," New Delhi, India: Government of India, Ministry of Health and Family Welfare, Department of Ayurveda, Yoga & Naturopathy, Unani, Siddha and Homoeopathy (AYUSH).
Bhardwaj L.K., Chandrul K.K. and Sharma U.S., 2015, "EVALUATION OF ANTHELMINTIC ACTIVITY OF CAESALPINIA CRISTA LINN. SEED EXTRACTS," WORLD JOURNAL OF PHARMACY AND PHARMACEUTICAL SCIENCES; 5(2): 976-982. [Web Reference]
Chauhan P., et al., 2015, "Evaluation of anti-ulcer activity of caesalpinia crista linn. seeds on pylorus ligation and indomethacine induced gastric lesions in albino rats," International Journal of Research in Pharmacy & Science; 5(4): 9-13. [Web Reference]
Flowers of India, "Crested Fever Nut," Retrieved on November 22, 2017. [Web Reference]
Gupta N., et al., 2013, "Antidiabetic activity of seed extracts of Caesalpinia crista Linn. in experimental animals," African journal of Pharmacy and Pharmacology; 7(26): 1808-1813. [Web Reference]
Gupta N., et al., 2014, "Hepatoprotective effect of Caesalpinia crista Linn. against CCl4 and paracetamol induced hepatotoxicity in albino rats," African Journal of Pharmacy and Pharmacology; 8(18): 485-491. [Web Reference]
Hossan S., et al., 2010, "Traditional use of medicinal plants in Bangladesh to treat urinary tract infections and sexually transmitted diseases," Ethnobotany Research and Applications; 8: 061-074. [Web Reference]
ITIS, 2017, "Caesalpinia crista L.,"Integrated Taxonomic Information System on-line database, March 1, 2017. [Web Reference]
Rahman S., et al., 2013, "Traditional phytotherapy of folk and tribal medicinal practitioners in Bangladesh for treatment of elephantiasis," American-Eurasian Journal of Sustainable Agriculture 7(3): 143-148. [Web Reference]
Ramesh B.N., et al., 2014, "Comparative study on anti-oxidant and anti-inflammatory activities of Caesalpinia crista and Centella asiatica leaf extracts," Journal of pharmacy & bioallied sciences; 6(2): 86-91. [Web Reference]
Tian Q-J, et al., 2013, "One new antitumour cassane-type diterpene from Caesalpinia crista," Natural product research; 27(6): 537-540. [Web Reference]
Uddin M.J., et al., 2014, "Study on Cytotoxic Activity of Clerodendrum inerme and Caesalpinia crista by Brine Shrimp Lethality Bioassay," International Journal of Innovation and Applied Studies; 8(4): 1574-1580. [Web Reference]