Caesalpinia sappan, Biancaea sappan
Shivani Kagra* & K.L. Dahiya**
______________________________________________________________
* Pursuing Bachelor of Ayurvedic Medicine and Surgeory; Lal Bhadur Shastri Mahila Ayurvedic College and Hospital, Bilaspur (Yamuna Nagar), Haryana, India
** Kurukshetra Global City, Kurukshetra, Haryana, India
______________________________________________________________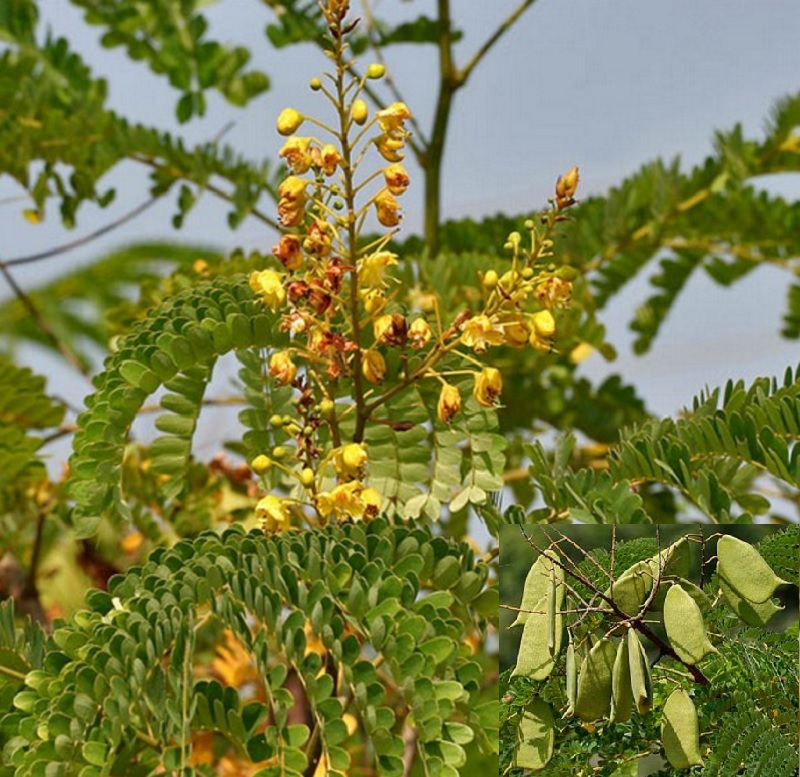 Vernacular name:
Assamese: Baggam, Bakam
Bengali: Bokom
English: Sappan Wood, Brazil wood
Gujarati: Patang
Hindi: Bakam, Pagang
Kannada: Patang, Sappange
Malayalam: Chappannam, Sappannam
Marathi: Patang, Pathang
Sanskrit: Patangah, Patranga, Patrangah, Pattanga
Tamil: Anaikuntrumani, Patamgam, Sappamgu
Telugu: Bakaruchakka, Bukkapuchettu
Urdu: Pattang
Taxonomic Hierarchy
Kingdom: Plantae – plantes, Planta, Vegetal, plants
Subkingdom: Viridiplantae
Infrakingdom: Streptophyta – land plants
Superdivision: Embryophyta
Division: Tracheophyta – vascular plants, tracheophytes
Subdivision: Spermatophytina – spermatophytes, seed plants, phanérogames
Class: Magnoliopsida
Superorder: Rosanae
Order: Fabales
Family: Fabaceae – peas, legumes
Genus: Caesalpinia L. – nicker, caesalpinia, poinciana
Species: Caesalpinia sappan L. – Sappan Wood, Brazil wood – (Syn. Biancaea sappan)
Phytogeography: Found in India, Peru, Malaya, etc. Wild in Shan hills; East and West Peninsula.
Description: Sappan Wood is a small thorny tree, 6-9 meter in height and 15-25 cm in trunk diameter with a few prickly branches. The heartwood is orange-red, hard, very heavy, straight grained with a fine and even texture.
Leaves: Leaves are double-compound, alternately arranged, 20-45 cm long, 10-20 cm broad, with 8-16 pairs of up to 20 cm long side-stalks. Side-stalks are prickles at the base and with 10-20 pairs of oblong, 10-20 mm x 6-10 mm long leaflets, very oblique at base, rounded to notched at the tip.
Flowers: Yellow flowers are borne panicles in leaf axils and at the end of branches. Flowers fragrant, 2-3 cm long, 5-merous. Stamens are waxy-white, filaments densely woolly at the base.
Fruits or seeds: Fruits are woody pods, compressed with a hard recurved short beak, with 3-4 seeds.
Propagation: Seeds
Parts used: Heartwood, leaves, seeds
Phytochemical Constituents: 4-Omethylsappanol protosappanin A; 5-hydroxy-1,4-naphthoquinone; Amino acids; Brasilin; Brazilein; Brazilin; Caeasalpin J; Caesalpinilinn; Caesalsappanin G; Caesalsappanin M; Caesalsappanin N; Cassane diterpenoids; Chalcones; Essential oils; Flavonoids; Flavonols; Hematoxylin; Homoisoflavones; Phanginin A; Phanginin F; Phanginin H; Phanginin I; Phanginin R; Phanginin S; Phanginin T; Phenolics; Protosappanin E; Saponin glycosides; Steroids; Sugars; Tannins; Tomocin C; Triterpenoids.
Pharmacological actions: Analgesic; Anthelmintic; Anti‐allergic; Anti-cancer; Anticomplementary; Anticonvulsant; Antidiabetic; Antiinflammatory; Anti-influenza; Antimicrobial; Antioxidant; Antiproliferative; Antithirst; Antitumour; Blood purifier; Cytotoxic; Gastroprotective; Hepatoprotective, hepatocuritive; Hypoglycaemic; Immunomodulatory; Pro-apoptotic; Vasorelaxant.
Medicinal uses: Biliousness; Burning sensation; Diabetes mellitus; Diarrhoea; Dysentery; Epilepsy; Hepatosis, hepatopathy, hepatitis; Leprosy; Leucorrhoea; Menorrhagia; Skin diseases; Ulcers; Wounds.
The heartwood which is used in medicine is light yellow when freshly cut, but it quickly changes to red. The colour diffuses out easily in hot water. In about 7-10 hours the extract becomes deep orange in color. Sappan wood was a major trade good during the 17th century, when it was exported from Southeast Asian nations aboard red seal ships to Japan.
Dosage and administration: Heart wood: 5-10 gm
References
Ayurvedic Pharmacopoeia Committee, 2004, "The Ayurvedic Pharmacopoeia of India, Part I, Volume IV," New Delhi, India: Government of India, Ministry of Health and Family Welfare, Department of Ayurveda, Yoga & Naturopathy, Unani, Siddha and Homoeopathy (AYUSH).
Bao H., et al., 2016, "Cytotoxic and pro-apoptotic effects of cassane diterpenoids from the seeds of caesalpinia sappan in cancer cells," Molecules; 21(6): 791. [Web Reference]
Badami S., et al., 2003, "Antioxidant activity of Caesalpinia sappan heartwood," Biological and Pharmaceutical Bulletin; 26(11): 1534-1537. [Web Reference]
Chellappan D.R., Purushothaman A.K. and Brindha P., 2017, "Gastroprotective potential of hydro-alcoholic extract of Pattanga (Caesalpinia sappan Linn.)," Journal of ethnopharmacology; 197: 294-305. [Web Reference]
Flowers of India, "Sappan Wood," Retrieved on July 29, 2017. [Web Reference]
Harjit K., Amini M.H. and Suttee A., 2016, "Evaluation of Antioxidant and Anthelmintic Properties of Caesalpinia sappan L. Leaves," Int. J. Pharmacogn. Phytochem. Res; 8(2): 362-368. [Web Reference]
ITIS, 2017, "Caesalpinia sappan L.," Integrated Taxonomic Information System on-line database, Retrieved on July 29, 2017. [Web Reference]
Lim M-Y, et al., 2007, "Antimicrobial activity of 5-hydroxy-1, 4-naphthoquinone isolated from Caesalpinia sappan toward intestinal bacteria," Food chemistry; 100(3): 1254-1258. [Web Reference]
Oh S.R., et al., 1998, "Anticomplementary activity of constituents from the heartwood of Caesalpinia sappan," Planta medica; 64(5): 456-458. [Web Reference]
Rani S., 2014, "INDIAN HERBAL MEDICINE AS HEPATOPROTECTIVE AND HEPATOCURATIVE: A REVIEW OF SCIENTIFIC EVIDENCE," LIFE SCIENCES LEAFLETS; 50: 61-115. [Web Reference]
Surveswaran S., et al., 2007, "Systematic evaluation of natural phenolic antioxidants from 133 Indian medicinal plants," Food Chemistry; 102(3): 938-953. [Web Reference]
Xie Y-W, et al., 2000, "Vasorelaxing effects of Caesalpinia sappan: involvement of endogenous nitric oxide," Life Sciences; 67(15): 1913-1918. [Web Reference]
Yodsaoue O., et al., 2009, "Anti‐allergic activity of principles from the roots and heartwood of caesalpinia sappan on antigen‐induced β‐hexosaminidase release," Phytotherapy research; 23(7): 1028-1031. [Web Reference]