Calamus thwaitesii
Shivani Kagra* & K.L. Dahiya**
______________________________________________________________
* Pursuing Bachelor of Ayurvedic Medicine and Surgeory; Lal Bhadur Shastri Mahila Ayurvedic College and Hospital, Bilaspur (Yamuna Nagar), Haryana, India
** Kurukshetra Global City, Kurukshetra, Haryana, India
______________________________________________________________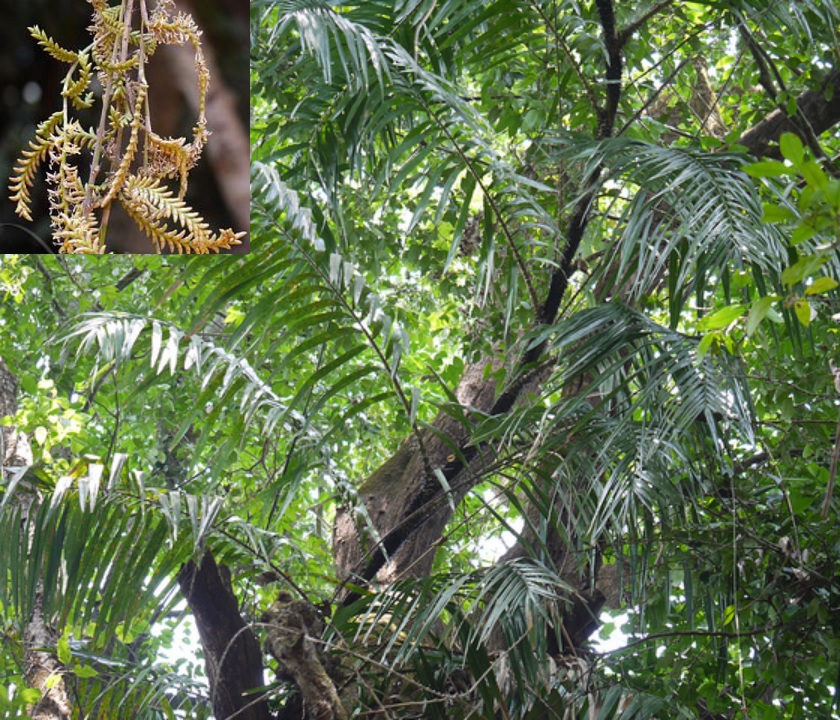 Vernacular name:
English: Rattan Cane
Kannada: Handibetta, Jeddu betta, Kumaari bettha
Konkani: Veta
Malayalam: Aanaccuural, Thatiyan cuural, Valiya chural, Valiya cuural
Marathi: Veta
Tamil: Vanchi
Taxonomic Hierarchy
Kingdom: Plantae – plantes, Planta, Vegetal, plants
Subkingdom: Viridiplantae
Infrakingdom: Streptophyta – land plants
Superdivision: Embryophyta
Division: Tracheophyta – vascular plants, tracheophytes
Subdivision: Spermatophytina – spermatophytes, seed plants, phanérogames
Class: Magnoliopsida
Superorder: Lilianae – monocots, monocotyledons, monocotylédones
Order: Arecales
Family: Arecaceae
Genus: Calamus L. – calamus
Species: Calamus thwaitesii Becc. - Rattan Cane
Phytogeography: Found in Southern India including Andhra Pradesh, Goa, Karnataka, Kerala, Maharastra, Tamil Nadu and Central and southern forests upto 1500 meter height.
Description: A strong climber, about 10 meter or more long. Stems are clustered, climbing, up to 6 cm in diameter.
Leaves: Leaf sheaths are yellow-green with brown hairs, with ridges of black, strongly flattened, up to 4 cm long spines, interspersed among many short spines. Flagella are present, up to 9 meter long. Leaf rachis is up to 3 meter long, with up to 30 lance shaped leaflets per side, irregularly arranged.
Flowers: Flower clusters are up to 7 meter long, flagellate.
Fruits: Ovoid, up to 2.5 cm long and 1.5 cm in diameter, dull orange or yellowish brown.
Propagation: Shoot proliferation
Parts used: Rhizomes
Pharmacological actions: Antifertility; Antileprosy; Antipyretic.
Medicinal uses: Bleeding disorder; Diarrhoea; Erysepales; Fever; Leprosy; Metabolic disorder; Skin diseases; Ulcers.
Other uses: Provides a medium-quality, large-diameter cane used in furniture making and basketry.
Dosage and administration: Rhizomes: 3-6 gm in powder form
References
Ayurvedic Pharmacopoeia Committee, 2008, "The Ayurvedic Pharmacopoeia of India, Part I, Volume VI," New Delhi, India: Government of India, Ministry of Health and Family Welfare, Department of Ayurveda, Yoga & Naturopathy, Unani, Siddha and Homoeopathy (AYUSH).
Dahanukar S.A., Kulkarni R.A. and Rege N.N., 2000, "Pharmacology of medicinal plants and natural products," Indian journal of pharmacology; 32(4): S81-S118. [Web Reference]
Flowers of India, "Rattan Cane," Retrieved on November 18, 2017. [Web Reference]
Henderson A., 2009, "Palms of southern Asia," Princeton University Press; p. 89. [Web Reference]
ITIS, 2017, "Calamus L.," Integrated Taxonomic Information System on-line database, Retrieved on November 18, 2017. [Web Reference]
Ramanayake S.M.S.D., 1999, "Viability of excised embryos, shoot proliferation and in-vitro flowering in a species of rattan Calamus thwaitesii Becc," The Journal of Horticultural Science and Biotechnology; 74(5): 594-601. [Web Reference]