Vitis vinifera, Cissus vinifera
Shivani Kagra* & K.L. Dahiya**
______________________________________________________________
* Pursuing Bachelor of Ayurvedic Medicine and Surgeory; Lal Bahadur Shastri Mahila Ayurvedic College and Hospital, Bilaspur (Yamuna Nagar), Haryana, India
** Kurukshetra Global City, Kurukshetra, Haryana, India
______________________________________________________________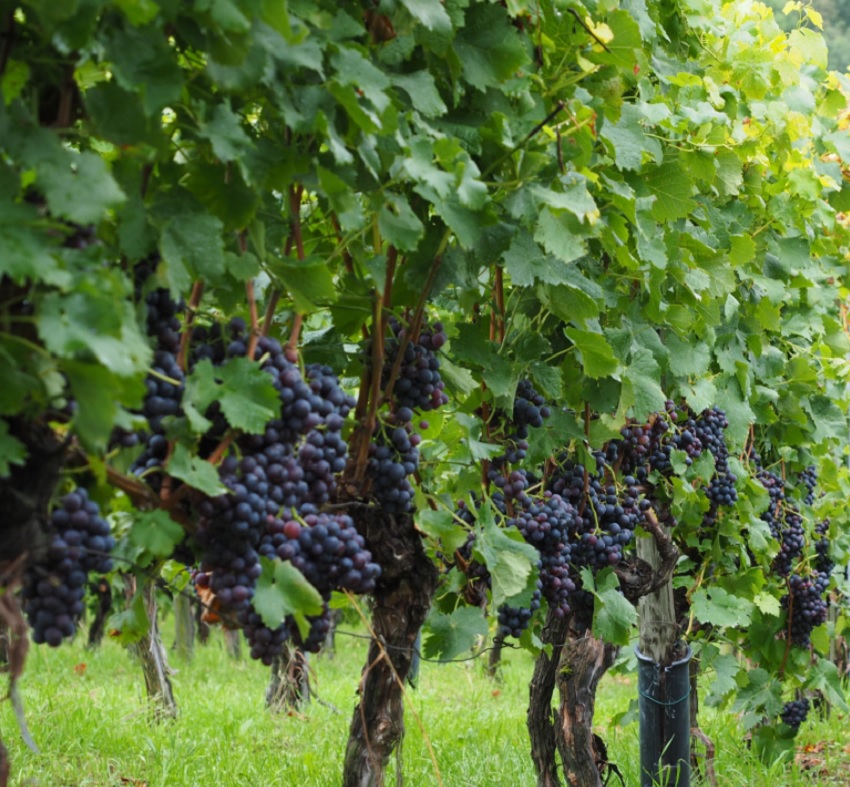 Vernacular name:
Assamese: Dakh, Munaqqa
Bengali: Maneka
English: Dry Grapes, Raisins, Grape Vine, Wine grape
Gujarati: Drakh, Darakh
Hindi: Munkka
Kannada: Draksha
Malayalam: Munthringya
Marathi: Draksha, Angur
Oriya: Drakya, Gostoni
Punjabi: Munaca
Sanskrit: Mrdvika, Gostani
Tamil: Drakshai, Kottai Drakshai
Telugu: Draksha
Urdu: Munaqqa
Taxonomic Hierarchy
Kingdom: Plantae – plantes, Planta, Vegetal, plants
Subkingdom: Viridiplantae
Infrakingdom: Streptophyta – land plants
Superdivision: Embryophyta
Division: Tracheophyta – vascular plants, tracheophytes
Subdivision: Spermatophytina – spermatophytes, seed plants, phanérogames
Class: Magnoliopsida
Superorder: Rosanae
Order: Vitales
Family: Vitaceae – grapes
Genus: Vitis L. – grape
Species: Vitis vinifera L. – Grape Vine, Wine grape – (Syn. Cissus vinifera)
Phytogeography: India, Korea. Grape Vine is native to the Mediterranean region, central Europe, and southwestern Asia, from Morocco and Portugal north to southern Germany and east to northern Iran. Cultivated throughout India.
The species typically occurs in humid forests and stream sides. The grape is eaten fresh, processed to make wine or juice, or dried to produce raisins. Cultivars of Vitis vinifera form the basis of the majority of wines produced around the world. All of the familiar wine varieties belong to Vitis vinifera, which is cultivated on every continent except for Antarctica, and in all the major wine regions of the world.
Description: A liana growing up to 30 meter tall, with flaky bark.
Leaves: Alternate, palmately lobed, 5-20 cm long and broad.
Flowers: Borne in large inflorescences carried on stalks 4-5 cm long, often bearing unbranched tendril. Flower are bisexual or functionally pistillate with shorter sterile stamens, greenish in colour, about 1.5 x 1 mm, flower-stalk about2 mm long, wiry, elongated and thickened in fruit. Calyx is minute, cup-shaped. Petals are 5, about 1.5 mm long, lance shaped.
Fruits: Berry, known as a grape, sticky and pulpy, dark brown to black; oblong or oval, sometimes spherical; 1.5 -2.5 cm long and 0.5-1.5 cm wide; outer skin irregularly wrinkled forming ridges and furrows; usually contain 1-4 seeds, 4-7 mm long, ovoid rounded to triangular or simply ovoid, brown to black; odour, sweetish and pleasant; taste, sweet. In the wild species it is ~6 mm in diameter and ripens dark purple to blackish with a pale wax bloom. In cultivated plants it is usually much larger, up to 3 cm long, and can be green, red, or purple-black.
Propagation: Cuttings
Parts used: Fruit, flowers, laves, seeds
Phytochemical Constituents: (−)-Malibatol A; (+)-Ampelopsin A; (+)-Ampelopsin F; (+)-E- w-Viniferin; (+)-Viniferol A; (+)-Viniferol B; (+)-Viniferol C; (+)-Viniferol D; (+)-Viniferol E; (+)-Vitisifuran A; (+)-Vitisifuran B; a-Viniferin; Ampelopsin D; Ampelopsin H; Anthocyanins; Carbohydrates; E-w-Viniferin; E-/Z-w-Viniferin; E-/Z-Piceid; E-/Z-Resveratrol; E-/Z-trans-Miyabenol C; E-/Z-trans-Miyabenol C; E-cis-Miyabenol C; E-Piceatannol; E-Piceid; E-Pterostilbene; E-Resveratrol; E-Resveratrol-2-C-glucoside; E-trans-Miyabenol C; E-Vitisin B; E-Vitisin C; E-δ-Viniferin; Flavonols; Gnetin H; Hopeaphenol; Isohopeaphenol; Malic acid; Oxalic acid; Pallidol; Polyphenols; Proanthocyanidins; Quadrangularin A; Resveratrol; Scirpusin A; Stilbene; Tannins; Vaticanol C isomer; Viniferifuran; Vitisin A; Z-w-Viniferin; Tartaric acid.
Pharmacological actions: Anti snake venom; Antiatherogenic; Anti-atherosclerotic; Antibacterial; Anticancerogenic; Antiemetic; Antihyperlipidemic, Hypolipidemic; Antihypertensive, hypotensive; Anti-Inflammatory; Antimicrobial; Anti-obesity; Anti-ophidian; Antioxidant; Antiviral; Cardiotonic; Hepatoprotective, hepatocuritive; Neuroprotective; Pancreatic lipase inhibitor; Vasorelaxant.
Medicinal uses: Alzheimer's Disease; Atherosclerosis; Cardiopathy; Cholera; Constipation; Emesis, vomiting; Hepatosis, hepatopathy, hepatitis; Hyperlipidemia; Nausea; Obesity; Skin disorders; Snake bite.
Fruit useful in vitiated condition of pitta. Flowers employed in hepatopathy.
Other uses: Grapes are eaten as fruit
Dosage and administration: Fruits: 5-10 gm (API)
References
Ahmed S., Hasan M.M. and Ahmed S.W., 2014, "Natural antiemetics: An overview," Pakistan journal of pharmaceutical sciences; 27(5SI): 1583-1598. [Web Reference]
Ayurvedic Pharmacopoeia Committee, 2001, "The Ayurvedic Pharmacopoeia of India, Part I, Volume III," New Delhi, India: Government of India, Ministry of Health and Family Welfare, Department of Ayurveda, Yoga & Naturopathy, Unani, Siddha and Homoeopathy (AYUSH).
Esatbeyoglu T., et al., 2016, "Chemical characterization, free radical scavenging, and cellular antioxidant and anti-inflammatory properties of a stilbenoid-rich root extract of Vitis vinifera," Oxidative medicine and cellular longevity. [Web Reference]
Flowers of India, "Grape Vine," Retrieved on June 17, 2017. [Web Reference]
Gouda N. and Dave P., 2017, "Positive effect of fruits on brain function," Journal of Pharmacognosy and Phytochemistry; 6(5): 1545-1547. [Web Reference]
Hasan M. and Bae H., 2017, "An Overview of Stress-Induced Resveratrol Synthesis in Grapes: Perspectives for Resveratrol-Enriched Grape Products," Molecules; 22(2): 294. [Web Reference]
ITIS, 2017, "Vitis vinifera L.," Integrated Taxonomic Information System on-line database, June 13, 2017. [Web Reference]
Jayaprakasha G. K., Singh R.P. and Sakariah K.K., 2001, "Antioxidant activity of grape seed (Vitis vinifera) extracts on peroxidation models in vitro," Food chemistry; 73(3): 285-290. [Web Reference]
Jayaprakasha G.K., Selvi T. and Sakariah K.K., 2003, "Antibacterial and antioxidant activities of grape (Vitis vinifera) seed extracts," Food research international; 36(2): 117-122. [Web Reference]
Lee J., Torosyan N. and Silverman D.H., 2017, "Examining the impact of grape consumption on brain metabolism and cognitive function in patients with mild decline in cognition: A double-blinded placebo controlled pilot study," Experimental gerontology; 87(Part A): 121-128. [Web Reference]
Makhija I.K. and Khamar D., 2010, "Anti-snake venom properties of medicinal plants," Der Pharmacia Lettre; 2(5): 399-411. [Web Reference]
Rani S., 2014, "INDIAN HERBAL MEDICINE AS HEPATOPROTECTIVE AND HEPATOCURATIVE: A REVIEW OF SCIENTIFIC EVIDENCE," LIFE SCIENCES LEAFLETS; 50: 61-115. [Web Reference]
Saleh T., Iratni R. and Eid A.H., 2016, "Anti-atherosclerotic plants which modulate the phenotype of vascular smooth muscle cells," Phytomedicine; 23(11): 1068-1081. [Web Reference]
Sedighi M., et al., 2017, "A review of plant-based compounds and medicinal plants effective on atherosclerosis," Journal of research in medical sciences: the official journal of Isfahan University of Medical Sciences; 22:30. [Web Reference]
Yun J.W., 2010, "Possible anti-obesity therapeutics from nature – A review," Phytochemistry; 71(14): 1625-1641. [Web Reference]