Allium sativum, Allium ophioscorodon, Allium pekinense, Porvium sativum
Shivani Kagra*, K.L. Dahiya** & Santosh Dhanday***
______________________________________________________________
* Pursuing Bachelor of Ayurvedic Medicine and Surgery; Lal Bahadur Shastri Mahila Ayurvedic College and Hospital, Bilaspur (Yamuna Nagar), Haryana, India
** Kurukshetra Global City, Kurukshetra, Haryana, India
*** Bachelor of Ayurvedic Medicine and Surgery; Ayrvedic Medical Officer (Ayush) at Kuruksherta, Haryana – India. Village Kheri Markanda, P.O. Sirsala (Kurukshetra), Haryana, India
______________________________________________________________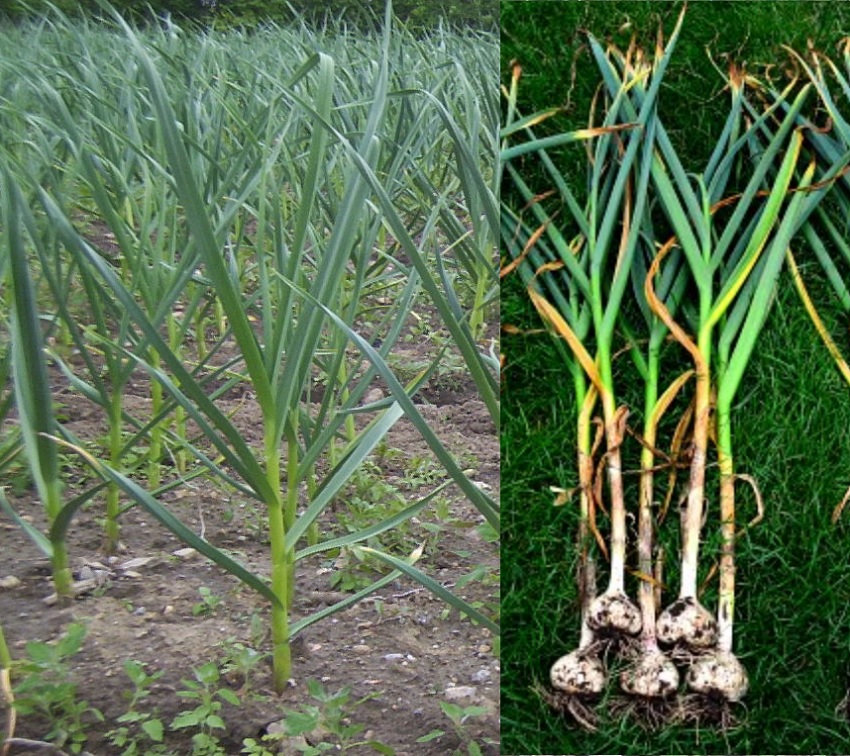 Vernacular name:
Assamese: Maharu, Naharu
Bengali: Lasun
English: Garlic
Gujarati: Lasan, Lassun
Hindi: Lahasun, Lahsun, Lahsan, Lassan
Kannada: Bulluci, Belluli
Malayalam: Vellulli, Nelluthulli
Manipuri: Chanam
Marathi: Lasun
Mizo: Purun-var, purunvar
Persian: Sir
Punjabi: Lasan
Sanskrit: Rasona, Yavanesta
Tamil: Acanam, Vellaipoondu
Telugu: Vellulli, Tellapya, Tellagadda
Urdu: Lahsan, Lehsan, Seer
Taxonomic Hierarchy
Kingdom: Plantae – plantes, Planta, Vegetal, plants
Subkingdom: Viridiplantae
Infrakingdom: Streptophyta – land plants
Superdivision: Embryophyta
Division: Tracheophyta – vascular plants, tracheophytes
Subdivision: Spermatophytina – spermatophytes, seed plants, phanérogames
Class: Magnoliopsida
Superorder: Lilianae – monocots, monocotyledons, monocotylédones
Order: Asparagales
Family: Amaryllidaceae
Genus: Allium L. – oignon, wild onion, onion
Species: Allium sativum L. – Cultivated garlic, Garlic, Lasan, Lahsun, Nector of the gods (Syn. Allium ophioscorodon, Allium pekinense, Porvium sativum)
Phytogeography: Probably, it is indigenous to Asia. Now, cultivated in most countries. Garlic is among the oldest of all cultivated plants. It has been used as a medicinal agent for thousands of years and has been used as a spice, food and folklore medicine for over 4000 years, and is the most widely researched medicinal plant. It is cultivated throughout India.
Plant description: Garlic is commonly cultivated herb. Aerial stems are up to 1 meter tall, erect, simple, herbaceous, green, hairless, round, mostly hollow. Bulb consists of many bulblets, with a papery coating and fibrous roots. Leaves are present in the lower 1/3 to 1/2 of the plant. Leaves are flat or very slightly folded, up to 30 cm long, 7-10 mm broad, smooth, often glaucous, with a prominent midrib, sheathing. The ligule is rounded ("U"-shaped), the free portion 1-2 mm tall (long). Inflorescence is a dense head-like cluster of bubils at the end of the stem. Inflorescence is covered in a papery spathe. Spathe with a long apiculate tip, splitting on one side at maturity. Flowers are mostly or entirely replaced by bubils. Bubils are smooth, whitish or (more commonly) with a reddish tinge. If produced, the small flowers are greenish, whitish, or pinkish and tubular with pointed lobes. Garlic is widely used around the world for its pungent flavour as a seasoning or condiment.
Flowering season: May-July.
Propagation: The garlic plants don't produce true seeds. Therefore, propagation of garlic involves the planting of individual cloves in the soil during the cool months of the growing season to enable it to grow while the soil remains cooler. If the soil is too warm, the plants will produce an overabundance of foliage and small bulbs.
Parts used: Bulbs/cloves
Phytochemical Constituents: Albumin; Alkaloids; Allicin; Allin; Allyl disulphide; Amino acids; Cardiac glycosides; Diallyltrisulfides; Flavonoids; Glycosides; Kaempferol; Methylthiosulfonate; Mucilage; Phenolic compounds; Reducing sugars; S-allylcysteine; Saponins; Tannin; Triterpenoids; Volatile oil.
Pharmacological actions: Acarifuge; Alexiteric; Alterative; Amoebicide; Analgesic; Androgenic; Anthelmintic; Antiaflatoxin; Antiaggregant; Antiallergic; Antiandrogenic; Antiarthritic; Antiatherogenic; Antiatherosclerotic; Antibacterial; Anticancer; Anticholinesterase; Anticonvulsant; Antidiabetic; Antidyslipidemic; Antiemetic; Antifertility; Antigiardial; Antihypertensive, hypotensive; Anti-inflammatory; Antiintegrase; Antimycotic; Antioxidant; Antiparalytic; Anti-platelet aggregator; Antiprostaglandin; Antipyretic; Antirheumatic; Antiseptic; Antispasmodic; Antistress; Antithrombic; Antithyroid; Antitumor; Antiulcer; Antiviral; Aphrodisiac; Cardiotonic; Carminative; Choleretic; Decongestant; Detoxicant; Diaphoretic; Digestive tonic; Diuretic; Emmenagogue; Expectorant; Fibrinolytic; Fungicide; Gastrotonic; Glutathionigenic; Hepatoprotective, hepatocuritive; Hyperglycemic; Hypocholesterolemic; Hypoglycemic; Hypolipidemic; Hypoperistaltic; Hypotensive; Hypotriglyceridemic; Hypouricemic; Immunostimulant; Insectifuge; Insulin-sparing; Interleukenogenic; Larvicide; Lipolytic; Lymphocytogenic; Myocontractant; Myorelaxant; Nervine tonic; Oedemagenic; Oestrogenic; Orexigenic; Ovicide; Oxytocic; Parasiticide; Phagocytotic; Protisticide; Rubefacient; Sedative; Spermicide; Vasodilator; Vermifuge; Vulnerary
Medicinal uses: Abscess; Acne; Adenopathy; Aegilops; Aging; Allergy; Alopecia; Altitude sickness; Anaemia; Anorexia; Arthritis; Athlete's foot; Bacteria like Bacillus, Cancer; Escherichia, Helicobacter, Salmonella, Shigella, Staphylococcus, Streptococcus; Bacterial infection cholera, diphtheria, leprosy, paratyphoid, paratyphus, tuberculosis; Typhoid; Boil; Bronchitis; Burn; Callus; Cancer of abdomen, bladder, colon, gland, lung, prostate, skin, stomach and uterus; Carbuncle; Cardiovascular diseases like arthrosis, atherosclerosis, cardiopathy, high blood pressure, high cholesterol, high triglyceride, hyperlipidemia, hypertension, palpitation, syncope, thrombosis; Convulsion; Dental conditions like caries and odontosis; Cholecystosis; Chronic fatigue; Cold; Congestion; Convulsion; Corn; Cystosis; Debility; Dementia; Dermatosis; Diabetes mellitus; Dropsy; Ear related problems like deafness, Otosis, Earache; Emesis, vominting; Epilepsy; Fever; Fibroid; Fungal diseases Cryptococcus, Ringworm; Gangrene; Gastrointestinal conditions like appendicitis, celiac, colic, colitis, colosis, constipation, cramp, diarrhoea, dysentery, dyspepsia, enterosis, epigastrosis, gastroenterosis, gastrosis, hyperperistalsis; Gout; Gynaecological disorders dysmenorrhoea, menopause, vaginosis; Hemorrhoid; Hepatosis, hepatopathy, hepatitis; Hyperglycaemia; Hypoglycemia; Hysteria; Immunosuppression; Impotence; Induration; Inflammations, myofascitis, stomatosis, tonsilosis, whitlow; insanity; insomnia, intermittent claudication; keratosis; nephrosis; leukemia; leukoderma; liver problems like hepatosis, toxicity due to acetaminophen; lupus; lymphoma; mange; melancholy; meningosis; mycosis sporotrichosis, trichomoniasis; mycotic infections like candida, mucososis, mycosis; nausea; nervousness;; obesity; oedema; pain like headache, felon, lumbago, myalgia, neuralgia, sciatica, stomachache; paralysis; parasites like pinworm, roundworm, tapeworm, filarial, hookworm; poisoning due to lead, nicotinism; poliomyelosis; polyp; protozoal infections like amoebiasis, coccidiosis, giardiasis, leishmaniasis, trypanosomiasis, malaria; pulposis; Raynaud's Syndrome; respiratory diseases like asthma, bronchiectasis, bronchosis, catarrh, cough, dyspnoea, laryngosis, pertussis, pharyngosis, pneumonia pulmonosis, respirosis, rhinosis; Rheumatism; scabies; senile dementia; sepsis; sinusosis; snakebite; sore throat; splenosis; swelling; thirst; paradentosis; trachoma; tumour; typhus; ulcer; ulcus cruris; varicosis; virus like aphtha, cytomegalovirus, flu, herpes; wart; water retention; wound and yeast.
According to Codex Ebers garlic is used effectively for the treatment of a variety of diseases like headache, bites, worms and tumours (Block 1985). The Jewish slaves were fed garlic and other allium vegetables to give strength and increase productivity (Rivlin 2001). In Greece, garlic was consumed as to treat intestinal and lung disorders (Farbman et. al. 1993). Louis Pastuer also reported the antibacterial properties of garlic (Block 1985). In India garlic lotions are used for washing of wounds and ulcers since centuries (Essman 1984). Many research workers have also reported insecticidal, antimicrobial, antiprotozoal and antitumour activities of garlic (Bolton 1982 and Moyers 1996).
Other uses: The leaf sheaths are used as spices preparation e.g. morning breakfast 'Prantha', chutney. The cloves and leaf sheaths are used in rice preparations to give a special flavour.
Dosage and administration: Acantholysis, pemphigus; more than 5 cloves per day may induce gas and heart burn, anticoagulation; may potentiate the antihypertensive and anticoagulant medications.
Fresh garlic, dried powder, and oil are used. Garlic should be taken orally along with meal to avoid gastrointestinal disturbances.
Bulbs: 1-5 cloves per day or 3 gm of the drug.
A raw bulbet are once daily
Adverse reactions: Contraindicated during Pregnancy and lactation, persons allergic to garlic, hyperthyroidism.
References
Ahmed S., Hasan M.M. and Ahmed S.W., 2014, "Natural antiemetics: An overview," Pakistan journal of pharmaceutical sciences; 27(5SI): 1583-1598. [Web Reference]
Al Disi S.S., Anwar M. A. and Eid A.H., 2015, "Anti-hypertensive herbs and their mechanisms of action: part I," Frontiers in pharmacology; 6: 323. [Web Reference]
AP (African pharmacopoeia), 1985, Vol. 1, 1st ed. Lagos, Organization of African Unity, Scientific, Technical & Research Commission, 1985.
Ayurvedic Pharmacopoeia Committee, 1999, "The Ayurvedic Pharmacopoeia of India, Part I, Volume I," New Delhi, India: Government of India, Ministry of Health and Family Welfare, Department of Ayurveda, Yoga & Naturopathy, Unani, Siddha and Homoeopathy (AYUSH). [Web Reference]
Ayurvedic Pharmacopoeia Committee, 2001, "The Ayurvedic Pharmacopoeia of India, Part I, Volume III," New Delhi, India: Government of India, Ministry of Health and Family Welfare, Department of Ayurveda, Yoga & Naturopathy, Unani, Siddha and Homoeopathy (AYUSH) [Web Reference]
Block E., 1995, "The Chemistry of Garlic and Onions," Sci. Amer. 1985, 252, 114-119. [Web Reference]
Baharvand-Ahmadi B., et al., 2016, "An ethno-medicinal study of medicinal plants used for the treatment of diabetes," Journal of nephropathology; 5(1): 44-50. [Web Reference]
Bolton S., Null G., Troetel W.H., 1982, "The Medicinal Uses of Garlic - Fact or Fiction," Am. Pharmacy 1982, 22, 448- 451. [Web Reference]
Duke J.A., Bogenschutz-Godwin M. Jo, duCellier J. and Peggy-Ann K. Duke, 2002 "Handbook of Medicinal Herbs," Published by CRC Press, 2nd ed.
Farbman K.S., Barnett E.D., Bolduc G.R., Klein J.O., 1993, "Antibacterial Activity of Garlic and Onions; A Historical Perspective," Pediatr. Infect. Dis. J. 1993, 12, 613-614. [Web Reference]
Flowers of India, "Garlic," Retrieved on July 6, 2017. [Web Reference]
Gautam G.K., 2012, "Phytochemical investigation and pharmacological screening of selected medicinal plants from indian origin," Suresh Gyan Vihar University, Mahal, Jagatpura, Jaipur, India 302025. [Web Reference]
Hurrell J.A., Puentes J.P. and Arenas P.M., 2015, "Medicinal plants with cholesterol-lowering effect marketed in the Buenos Aires-La Plata conurbation, Argentina: An Urban Ethnobotany study," Ethnobiology and Conservation; 4(7): 1-19. [Web Reference]
ITIS, 2017, "Allium sativum L.," Integrated Taxonomic Information System on-line database, March 1, 2017. [Web Reference]
Jayaprasad B., Thamayandhi D. and Sharavanan P.S., 2012, "Traditionally using antidiabetic medicinal plants in Tamil Nadu," International Journal of Research in Pharmaceutical and Biosciences; 2(1): 1-8. [Web Reference]
Khare C.P., 2008, "Indian Medicinal Plants - an Illustrated Dictionary," Published by Springer Science + Business Media, LLC.
Mikawlrawng K., et al., 2017, "Anti-paralytic medicinal plants–Review," Journal of Traditional and Complementary Medicine;. [Web Reference]
Milner J.A., 1996, "Garlic: its Anticarcinogenic and Antitumor Properties," Nutr. Rev. 1996, 54, S82 - 86. [Web reference]
Peter K.V., 2001, "Handbook of Herbs and Spices 1st edition," Published by CRC Press USA LLC.
Quintans L.J., et al., 2008, "Plants with anticonvulsant properties: a review," Revista Brasileira de Farmacognosia; 18: 798-819. [Web Reference]
Rani S., 2014, "INDIAN HERBAL MEDICINE AS HEPATOPROTECTIVE AND HEPATOCURATIVE: A REVIEW OF SCIENTIFIC EVIDENCE," LIFE SCIENCES LEAFLETS; 50: 61-115. [Web Reference]
Rivlin R.S., 2001, "Historical Perspective on the Use of Garlic," J. Nutr. 2001, 131, 951S - 954S. [Web reference]
Saleha T., Iratni R. and Eid A.H., 2016, "Anti-atherosclerotic plants which modulate the phenotype of vascular smooth muscle cells," Phytomedicine; 23(11): 1068-1081. [Web Reference]
Sedighi M., et al., 2017, "A review of plant-based compounds and medicinal plants effective on atherosclerosis," Journal of research in medical sciences: the official journal of Isfahan University of Medical Sciences; 22:30. [Web Reference]
Shaikh A.M., et al., 2016, "Medicinal Plants as Potential Source of Anticancer Agents: A Review," Journal of Pharmacognosy and Phytochemistry; 5(2): 291-295. [Web Reference]
Singh V. and Kumar R., 2017, "Study of Phytochemical Analysis and Antioxidant Activity of Allium sativum of Bundelkhand Region," Int. J. Life. Sci. Scienti. Res; 3(6): 1451-1458. [Web Reference]
Subramoniam A., Madhavachandran V. and Gangaprasad A., 2013, "Medicinal plants in the treatment of arthritis," Ann Phytomedicine; 2: 3-36. [Web Reference]
Thomson M. and Ali M., 2003, "Garlic [Allium sativum]: A Review of its Potential Use as an Anti-Cancer Agent," Current Cancer Drug Targets;3(1):67-81. [Web Reference]
WHO 1999, "WHO Monograms on Selected Medicinal Plants" Vol. 1:16-32.