Zobawng Cattle
Status: Endangered
Country: India
Home or breeding tract: High altitudes of Mizoram state. The local cattle of the Mizoram state are called as zobawng (zo means high land and bawng means cattle) i.e. cattle of hills.
Morphological characteristics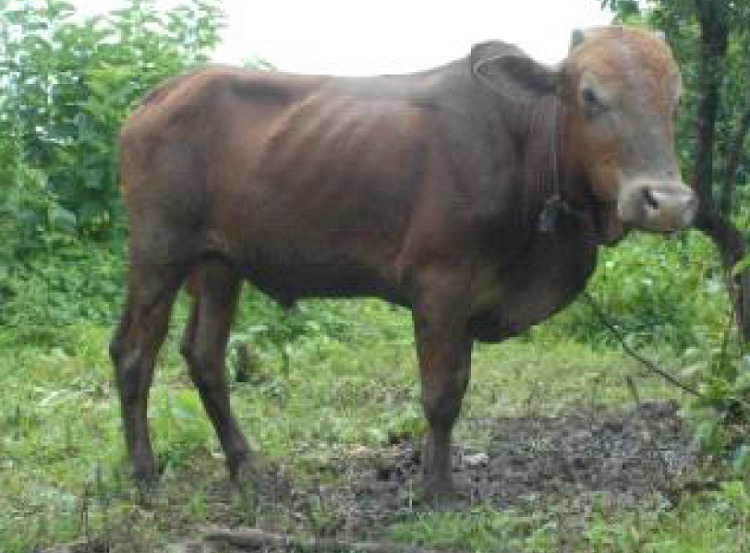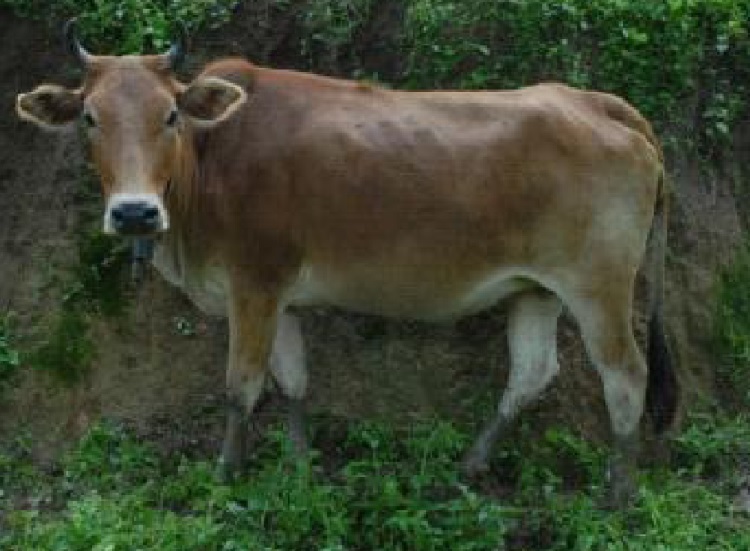 Body: Small sized
Body colour: The body colour varies in different colours brown (85%), black (11%) and gray (4%).
Head: Small with prominent poll
Ears: Small to moderate, horizontal orientation
Muzzle: Black (79%) and brown
Naval flap: Small
Penis sheath flap: Short and tucked up with body
Horns: Small, black (72%) or gray (28%) in colour. Orientation was mostly outward, upward and then curved towards face.
Tail: Above the hock with black (39%), brown (54%) and gray (7%) switch
Hooves: Black (87%) and brown (13%)
Udder: Small, not well developed and milk veins were not prominent. Sizes of fore and rear udder were small (77% and 62%, respectively).
Teats: small 5-12 cm long, in most of the cases in cylindrical shape (22%) and funnel (78%) type. Tips of the teats were either round (82%) or funnel (18%).
Morphomtric parameters
Height at withers: 108.42±0.73 cm
Body length: 121.44±0.90 cm
Head length: 38.69±0.25 cm
Forehead width: 14.29±0.15 cm
Horn length: 5.05±1.27 cm
Tail length: 85.64±0.66 cm
Leg length: 92.05±0.51 cm
Average heart girth: 133.15 ±0.62 cm
Reproductive traits
Age at puberty: 28-43 months
Age at first service: 30-44 months
Age at first calving: 39-51 months
Gestation period: 280-300 days
Post partum heat: 4-10 months
Dry period: 6-12 months
Production traits
Daily milk yield (Kg): 4.4 kg (0.5-3.0 kg)
Lactation period: 275 days
Behaviour: Docile
References
Laldinthara N.M. and Andrew L., 2015, "Characterisation of Mizoram Native Cattle of Indian Origin," Journal of Animal Research; 5(4): 801-806. [Web Reference]
Saidur R. and Girin K., 2015, "Morphometric, Productive and Reproductive Traits of Local Cattle (Zobawng) Of Mizoram," International Journal of Livestock Research; 5(7): [Web Reference]