Brown Atlas Cattle, Beldi, Blond Moroccan, Blond Zaers, Blonde des Plateux, Brune de l' Atlas, d'Oulmes et des Zaers, Libyan Brown Atlas, Libyan Shorthorn, Mahalli, Moroccan Blond, Oulmes Blond, Oulmes
Breed group: North African Humpless Shorthorns
Country: Algeria, Libya, Morocco, Tunisia
Home or breeding tract: Inhabit the coastal areas of Libya, Tunisia, Algeria and Morocco and specifically the Atlas mountains.
Morphological characteristics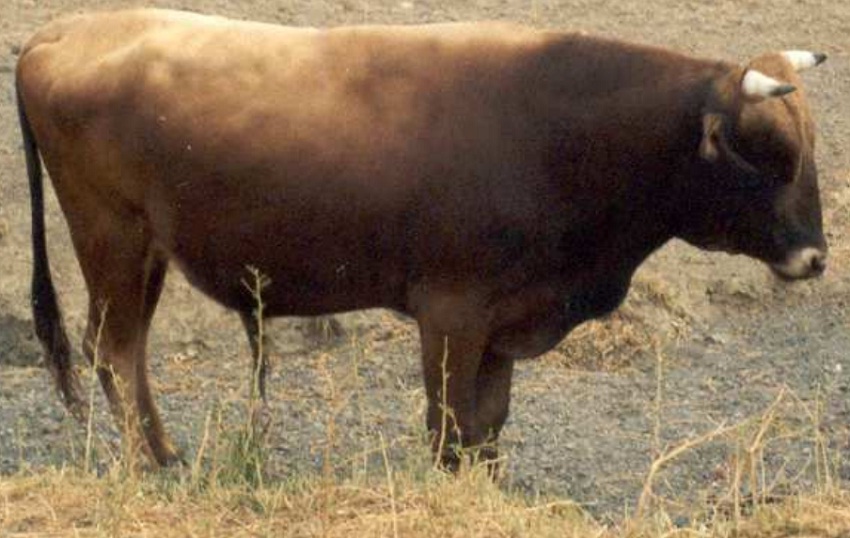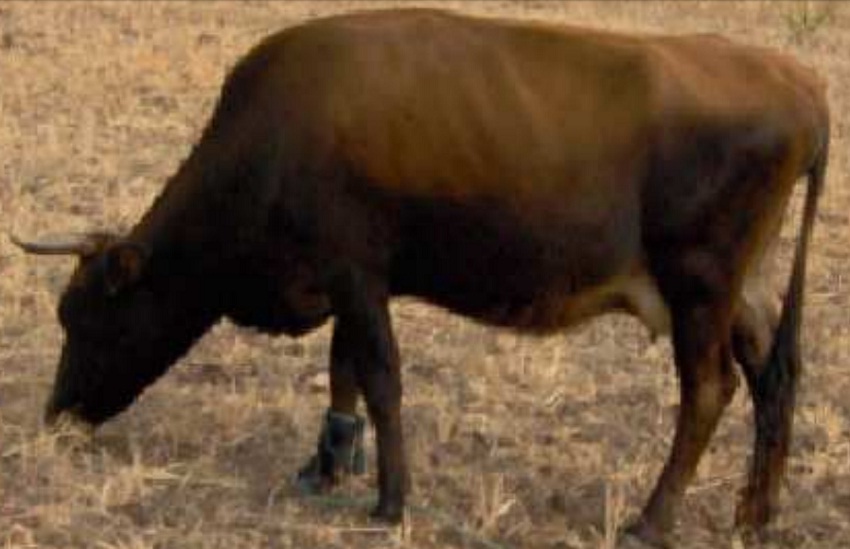 Body: Sturdy, fairly- compact
Body colour: The hairy coat is short and close. The coat colouration of the cattle in the eastern part of Algeria from Tunis to Djurdjura is a light gray which, especially in bulls, shades into darker areas covering, to a greater or lesser extent, the head, shoulders, limbs, hindquarters and underline. In the remainder of the area, while the dark shading remains, the gray is replaced by fawn. There is often an area of light-coloured hair surrounding the muzzle, which varies from slate-gray to black in colour.
Skin: Thick and of dark pigmentation.
Head: Short and broad with a straight to slightly concave profile and, as a result of the faint prominence of the orbital arches, a rather concave forehead.
Forehead: Concave
Neck: Short
Dewlap: Short
Chest (barrel): Deep with well rounded ribs.
Horns: Short, growing laterally from the poll, then turning forwards and upwards. The inclination of the horns is approximately at right angles to the line of the profile. The horns are white or grayish at the base with black tips, and the hoofs are slate-gray or black.
Tail: Low set; thick at the base and tapers to a full black switch, falling well below the hocks.
Limbs: Fine
Hooves: Hard and close textured
Loin (Back): The top line is straight or has a slight dip in the centre part.
Rump: Medium in length tends to be light and slopes only slightly from front to rear.
Morphomtric parameters
Body weight: At birth 14-27 kg; Adult male: 350-450 kg, Females: 300 kg
Height at withers: 115-130 cm
Average heart girth: 75-80 cm
Reproductive traits
Age at first calving: Heifers 22-24 months
Production traits
Daily milk yield (Kg): 4-10 kg
Remarks: They are sturdy animals. The steers are docile and good draught animals.
References
Boujenane I., 2002, "Cattle breeds in Morocco," Actes Editions, Rabat, Morocco. 144 p. ISBN: 9981-801-52-6.
Joshi N.R., Molaughlin E.A. and Phillips R.W., 1957, "Types and breeds of African cattle," Food And Agriculture Organization Of The United Nations; 33-40 [Web Reference]
Maule J.P., 1990, "The cattle of the tropics," Edinburgh University (UK). Centre for Tropical Veterinary Medicine.