Hampshire Pig
Country: England
Place of origin: Southern Scotland and Northern England. Developed in Boone County, Kentucky, from foundation stock raised in the New England states known as the Thin Rinds and Belted Hogs.
Morphological characteristics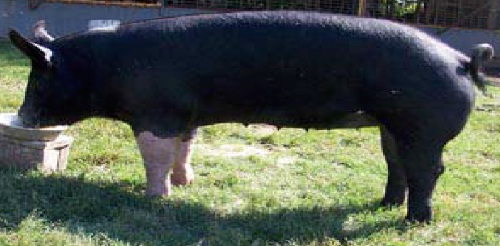 Body: Smaller than some breeds.
Body coat: Black with a white band around the body at the shoulder including the front legs and feet.
Head: Black
Ears: Erect
Face: Longer and straighter than other breeds.
Legs: Hindlimbs - black
Tail: Black
Morphometric traits
Body weight: Boar: 300 kg, Sows: 250 kg
Reproductive traits
Sows have good mothering ability. Used extensively in crossbreeding because of their good carcass quality. The modern Hampshire is the leader in producing carcasses of high quality.
Litter size: 9 piglets
Remarks: Hardiness, vigor, foraging ability, prolificacy and outstanding carcass quality.
References: