Gloriosa superba L., Gloriosa rothschildiana O'Brien, Gloriosa speciosa, Gloriosa simplex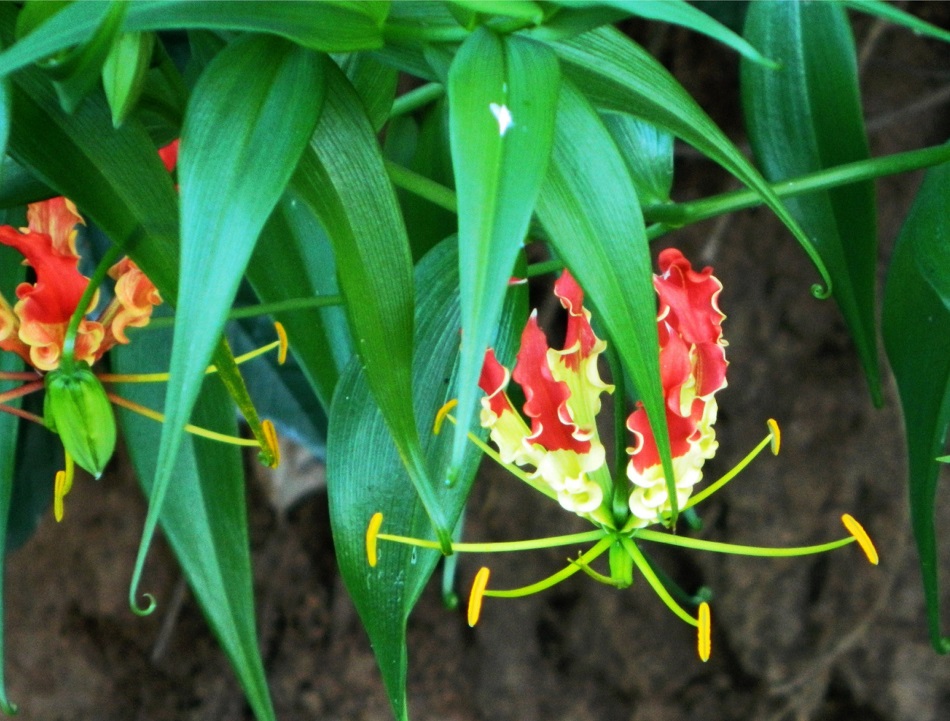 A postal stamp was issued by the Indian Postal Department to commemorate this flower.
Vernacular name: State Flower of Tamil Nadu
Bengali: Bishalanguli, Ulatchandal
English: Climbing Lily, Creeping Lily, Fire Lily, Flame Lily, Gloriosa Lily, Glory Lily, Tiger Claw, Gloriosa lily, Malabar glory lily
Gajarati: Dudhiovachnag, Varhvardi
Hindi: Bachnag, Kadyanag, Kari hari, Languli, Ulatchandal
Kannada: Agnisikhe, Karadikanninagadde, Kolikuttuma, Siva-raktaballi, Siva-saktiballi
Malayalam: Kandhal, Kannupottippovu, Kithonni, Malaattamara, Menthonni, Mendoni
Marathi: Indai, Kallavi, Khadyanag, Nagkaria, Kal-lavi, vaghachabaka
Nepali: Nepali kewara
Oriya: Garbhhoghhatono, Meheriaphulo, Ognisikha, Panjangulia
Sanskrit: Agnimukhi, Agnisikha, Ailni, Garbhaghatini, Kalikari, Langalika, Visalya
Tamil: Kalappaikkizhangu, Kandhal, Kannuvelli
Telugu: Adavinabhi, Agnisikha, Ganjeri, Kalappa-gadda, Nabhi, Pottidumpa
Urdu: Kanol, Kulhar, Meherio-phulo
Taxonomic Hierarchy
Kingdom: Plantae – plantes, Planta, Vegetal, plants
Subkingdom: Viridiplantae
Infrakingdom: Streptophyta – land plants
Superdivision: Embryophyta
Division: Tracheophyta – vascular plants, tracheophytes
Subdivision: Spermatophytina – spermatophytes, seed plants, phanérogames
Class: Magnoliopsida
Superorder: Lilianae – monocots, monocotyledons, monocotylédones
Order: Liliales
Family: Colchicaceae
Genus: Gloriosa L. – flame lily
Species: Gloriosa superba L. – Climbing Lily, Creeping Lily, Fire Lily, Flame Lily, Gloriosa Lily, Glory Lily, Tiger Claw, Malabar glory lily, Kembang telang (Syn., Gloriosa superb, Gloriosa rothschildiana O'Brien, Gloriosa speciosa, Gloriosa simplex)
Phytogeography: The plant is native to tropical Africa and Asia. In India, it is commonly distributed in semi-evergreen, moist and dry deciduous and evergreen forests, and also in open places of tropical parts of India. It is also grown in gardens for their ornamental flowers.
Plant description: Glory Lily is a most unusual and splendid flower, which is a sight to behold. Glory Lily is a twining vine that is able to climb up with tendrils formed at the tips of the leaves.
A tendril climber grows up to 8-meter-long, rhizomatous; rhizomes tuberous, cylindric, simple or forked, white.
Leaves: Leaves simple, alternate, sessile or subsessile, linear or ovate to lanceolate, 7-20 × 1.5-5 cm, bright green; leaftip is modified into a tendril that coils around nearby supports to get a grip.
Flowers: Flowers solitary or subcorymbose, showy. Petals 6, elongate and wrinkled at margins, and gradually arch backward, greenish to yellow when young, orange to scarlet or crimson when mature. Stamens are extremely prominent and spread outward in graceful curves.
Fruits or seeds: Fruits septicidal capsules, linear to oblong; seeds many, rounded or subglobose.
Flowering season: July-March
Propagation: Seeds or cuttings of rhizomes, whole plant
Parts used: Leaves, rhizomes (tubers)
Phytochemical Constituents: 1,2-didemethyl colchicines; 2,3-didemethylcolchicine; 2-hydroxy 6-methoxy benzoic acid; 3-demethylcolchicine; 3-demethyl-n-deformyl-n-deacetylcolchicine; Benzoic acid; Chelidonic acid; Colchicine; Colchicoside; Gloriosine; Lumicolchicine; N-deacetyl colchicines; N-formyl deacetylcolchicine; Phenylalanine; Phytosterils; Salicylic acid; Sterols; Stigmasterin; Superbine; Tannins; Thiocolchicoside; Tyrosine; β-sistosterol glucoside;
Pharmacological actions: Abortifacient; Acaricidal; Acetylcholinesterase inhibitor; Acrid; Analgesic; Anthelmintic; Antibacterial; Anticancer; Anticoagulant; Antidote; Antifungal; Anti-inflammatory; Antimalarial; Antimicrobial; Antipyretic; Bitter; Butyrylcholinesterase inhibitor; Cytotoxic; Digestive tonic; Expectorant; Germicidal; Homicidal; Insect bite; Lipoxygenase inhibitor; Muscle relaxant; Mutagenic; Paralysis; Thermogenic; Tonic;
Medicinal uses: Abortion; Arthritis; Bleeding; Bruises; Cancer; Childbirth; Colic; Gonorrhoea; Gout; Haemorrhoids; Helminthiasis; Impotency; Infertility; Inflammation; Inflammation; Intestinal worms; Labour pain; Leprosy; Nocturnal seminal emission; Parasitic skin diseases; Piles; Poisoning; Rheumatic fever; Rheumatism; Scorpion bite; Skin diseases; Snake bite; Sores; Sprains; Syphilis; Tumours; Ulcers; Wounds;
The tuber is given to cattle for the expulsion of warms. The leaf juice is used for killing the lice in the hair. The tuber extract shows antibiotic activity against Staphylococcus aureus bacteria.
Other uses: The tubers are poisonous, containing many alkaloids, chiefly colchicine. The powdery substance extracted from tubers is economically valuable for making drugs.
Dosage and administration: Paste of root stock is made in cow urine then it is applied on piles twice a day for seven days.
Adverse reactions: Tubers are highly toxic.
References
Ade R. and Rai M.K., 2009, "Review: Current advances in Gloriosa superba L.," Biodiversitas; 10(4):210-214. [Web Reference]
ITIS, 2017, "Gloriosa superba L.," Integrated Taxonomic Information System on-line database, March 13, 2017. [Web Reference]
Jana S. and Shekhawat G.S., 2011, "Critical review on medicinally potent plant species: Gloriosa superba," Fitoterapia; 82(3):293-301. [Web Reference]
John J.C., et al., 2009, "Analgesic and anti-inflammatory activities of the hydroalcoholic extract from Gloriosa superba Linn.," International Journal of Green Pharmacy (IJGP); 3(3):215-219. [Web Reference]
Khan H., et al., 2008, "Antimicrobial activities of Gloriosa superba Linn (Colchicaceae) extracts," Journal of enzyme inhibition and medicinal chemistry; 23(6):855-859. [Web Reference]
Khan H., Murad Ali Khan and Iqbal Hussan, 2007, "Enzyme inhibition activities of the extracts from rhizomes of Gloriosa superba Linn (Colchicaceae)," Journal of enzyme inhibition and medicinal chemistry; 22(6):722-725. [Web Reference]
Pawar B.M., et al., 2010, "Anthelmintic activity of Gloriosa superba Linn (Liliaceae)," International Journal of PharmTech Research; 2(2):1483-1487. [Web Reference]
Senthilkumar M., 2013, "Phytochemical Screening of Gloriosa superba L. from different geographical positions," International Journal of Scientific and Research Publications; 3(1):1-5. [Web Reference]
Sudhakar J.V., "TAMIL NADU," Botanical Survey of India, C.G.O. Complex, Salt Lake City, Kolkata. [Web Reference]